How to generate form 16A
Introduction
As tax-filing season arrives, understanding the intricacies of financial documentation becomes crucial. Form 16A, an essential document in the realm of taxes. It provides an insightful breakdown of your earnings and deductions, ensuring you remain tax-compliant. It is especially important for TDS returns. In this guide, we will illustrate how to generate Form 16A, emphasizing each step's significance and detailing the method's simplicity.
What is Form-16A 
Form 16A stands as a testimony to the tax deductions made by your employer or any other deductor. This document holds essential details such as the Deductor's name, PAN, and TAN, the Deductee's name and PAN, Payment details, TDS challan number, Date of deposit, and TDS amount deposited. While it sounds similar to Form 16, Form 16 and Form 16A have major differences between them. The primary difference is that Form 16 is for TDS deducted from salary, whereas Form 16A is for TDS deducted from income other than salary.
Step by Step Guide to Generate Form 16A
Step 1: Login to TRACES
Initiate the process by visiting TRACES and logging in using your USER ID, password, and TAN. If you're a first-time TDS deductor, you'll need to register as a new user on the TRACES portal.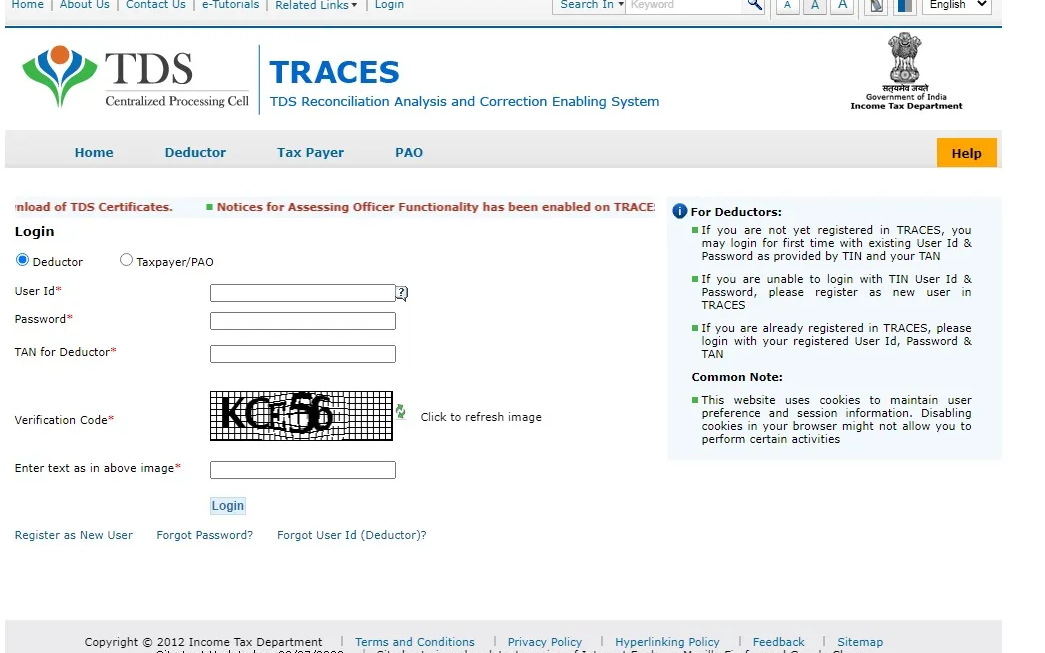 Step 2: Select Form 16A
Once logged in, navigate to the 'Downloads' tab and select the 'Form 16A' option.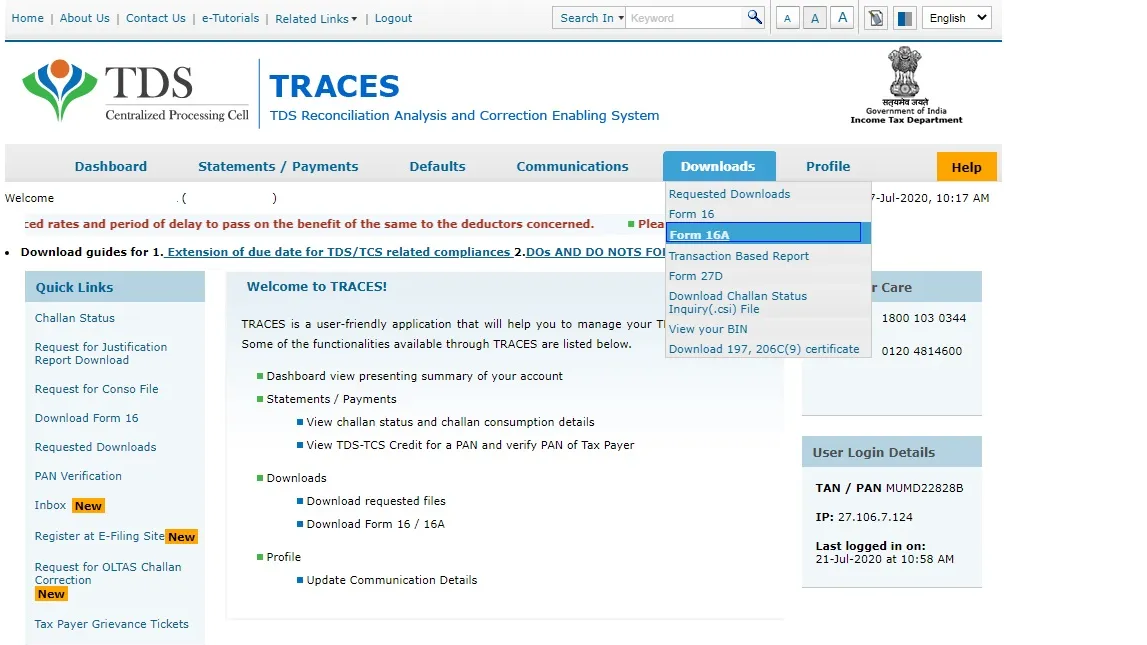 Step 3: Select Financial Year and PAN
Here, you'll fill out the requisition form for Form 16A. You have two options for downloading: Bulk Pan downloads and Search PAN to generate form 16A.
Search PAN Option:
Request Form 16A PAN-wise by entering the Financial year, Quarter of the TDS return, Form Type, and PAN of the party. Click 'Add,' then 'Go,' and finally 'Submit.'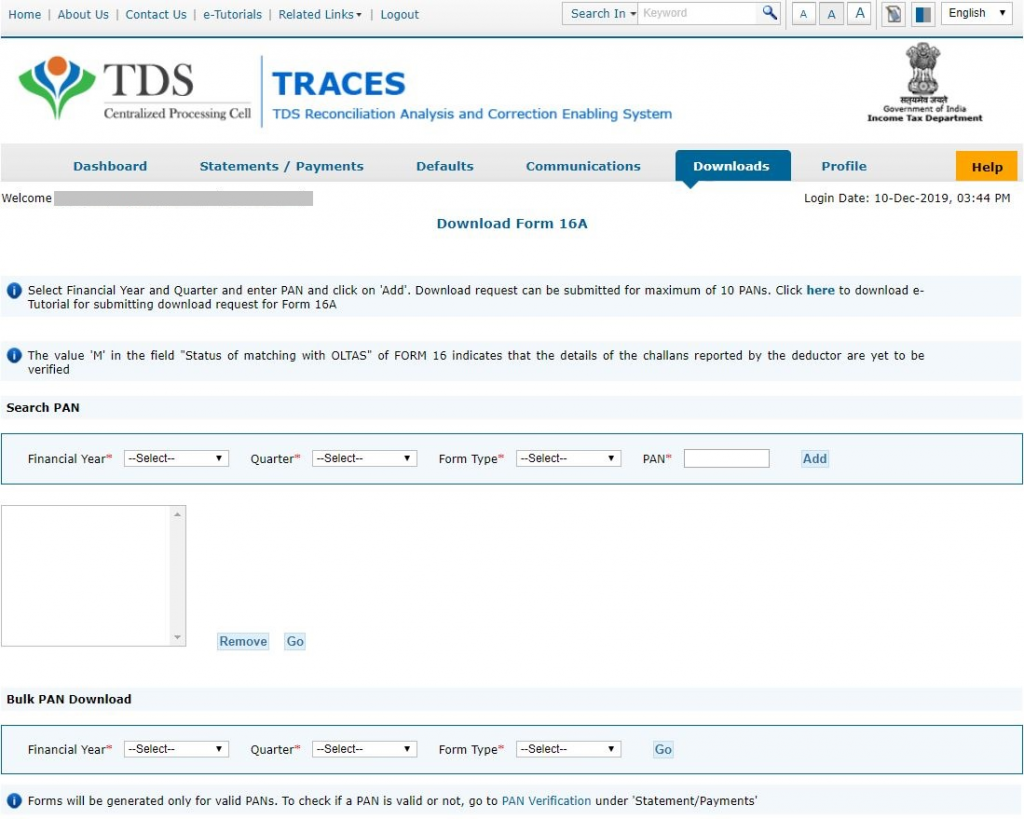 This will take you to a new page. Fill in all the details and click on Proceed. This will generate form 16A for download.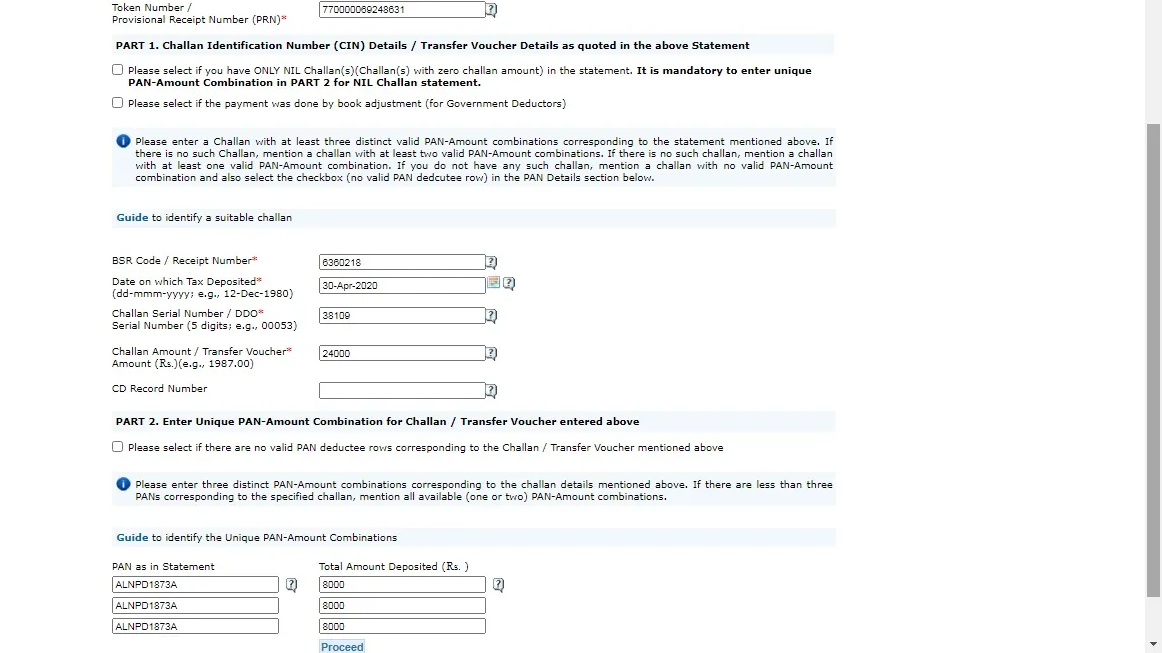 Bulk PAN Download:
Enter the Financial year, Quarter of the TDS return, and Form Type. Then, proceed with the token code from the TDS return acknowledgement, challan details, and the first three TDS entries from the TDS statement.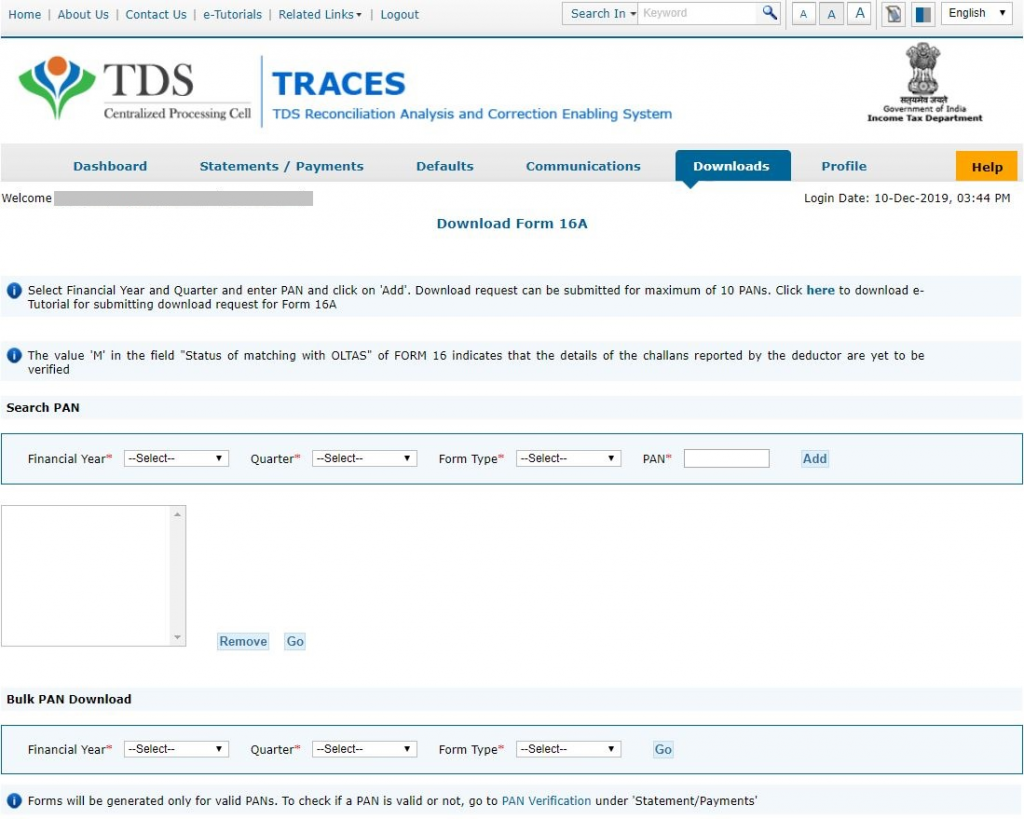 This will take you to a new page with a form where you have to provide details such as token number etc. Fill out the form and click proceed. This will generate form 16A for download.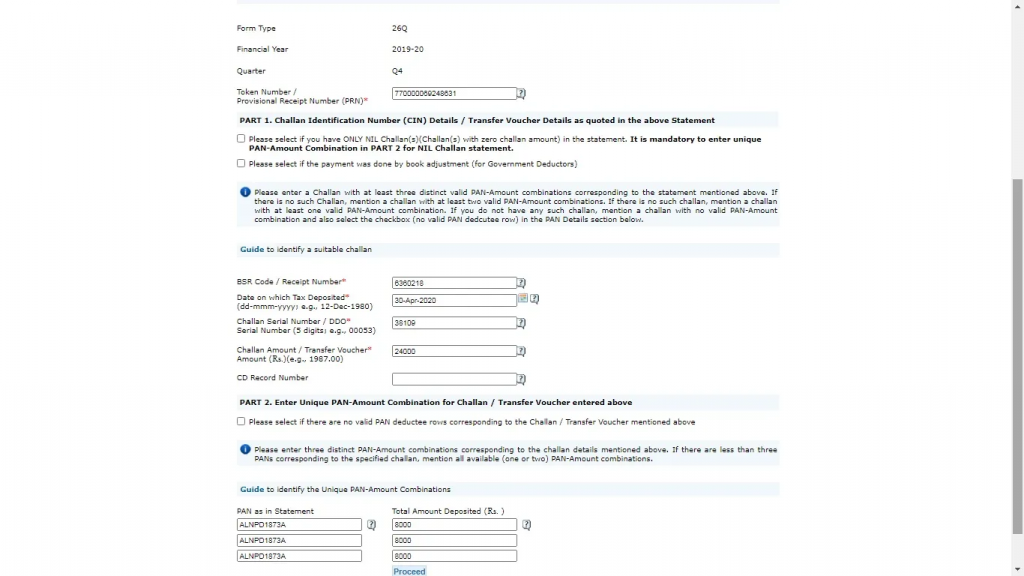 Step 4: Downloading Form 16A
After submission, Form 16A can be downloaded after 2 – 3 hours. Under 'Downloads,' select 'Requested Download' and view your requested Form 16A. Once it shows 'Available,' click 'HTTP download' to obtain your Form 16A. It will get downloaded as a ZIP folder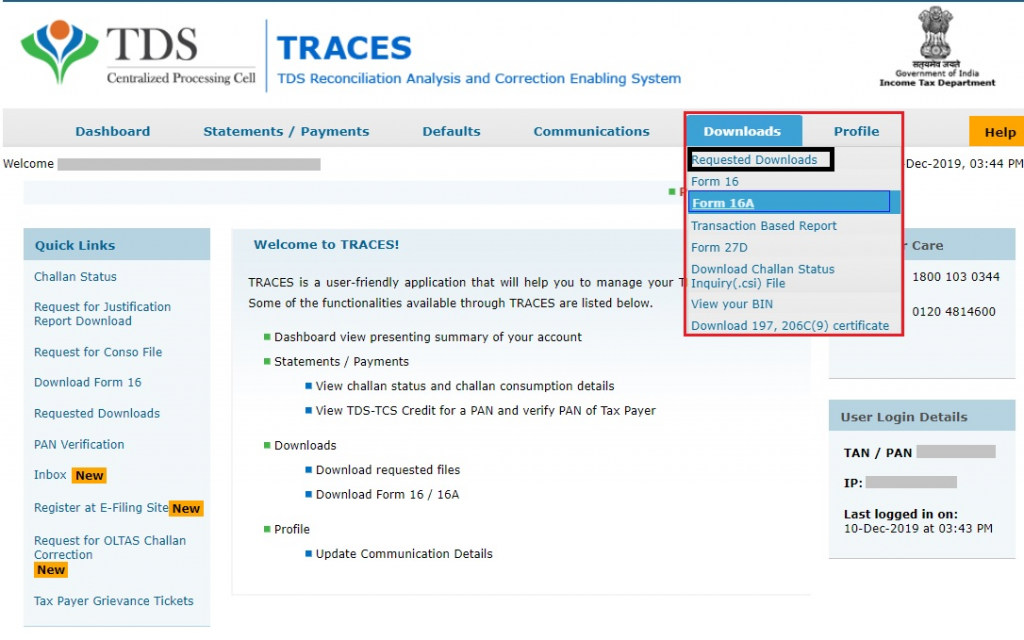 Step 5: Download TRACES Utility
In addition to Form 16A, you need the TRACES utility to be able to access the Form. Click on 'Download TRACES PDF Converter V 1.5 Light Version' to acquire the utility for conversion.

Step 6: Follow these Steps to Download Form 16A PDF
After securing the utility, follow these steps to download the Form 16A PDF:
First, open the downloaded tool
After that, open the downloaded 16A ZIP folder (Step 4)
Next, you need to enter your TAN as the password
Once that's done, now select a folder to download the forms into
Finally, click on the 'Proceed' button. This will open the form for you to access.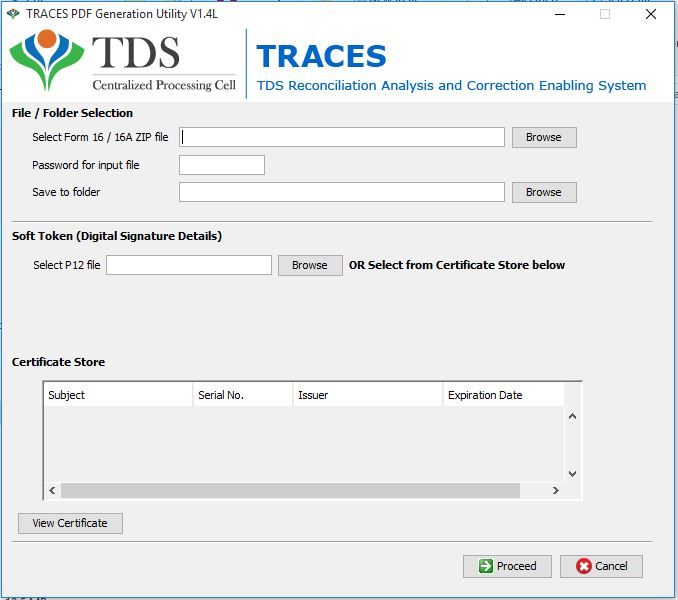 Conclusion
Navigating the realm of taxation can be complex, but generating Form 16A doesn't have to be. By following these steps meticulously, you can generate Form 16A and ensure that your tax documentation is in order, facilitating a seamless filing process. Remember, accurate documentation is key to staying compliant and informed regarding your financial matters. Incorporating these steps into your financial routine can undoubtedly provide you with a clear understanding of your tax deductions and ensure a hassle-free tax-filing experience.
Frequently Asked Questions
What is Form 16A?

Form 16A is a certificate for TDS deduction, issued to taxpayers by deductors.
Can I download Form 16A for multiple PANs?

Yes, you can use the Bulk PAN Download option to request Form 16A for multiple PANs.
How long does it take to get Form 16A after submission?

You can usually download Form 16A 2 – 3 hours after submission on the TRACES portal.
Is Form 16A required for filing taxes?

Yes, Form 16A provides essential details about TDS deductions, which are necessary for accurate tax filing.
Can I use the downloaded Form 16A for official purposes?

Yes, the downloaded Form 16A is an official document and can be used for various financial transactions.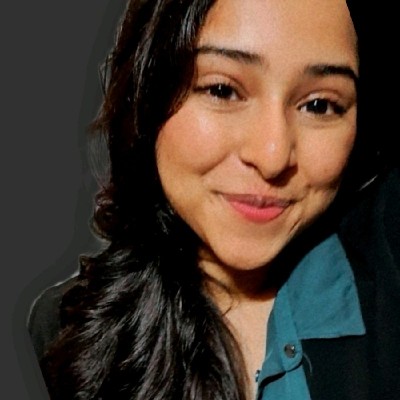 Monjima Ghosh
Monjima is a lawyer and a professional content writer at LegalWiz.in. She has a keen interest in Legal technology & Legal design, and believes that content makes the world go round.