What is the INC 9 form of MCA & How to file it online
Introduction
Are you registering a company and are now wondering what the INC-9 form is? The INC-9 form is a crucial document. All directors and subscribers of a company need to submit it to the Ministry of Corporate Affairs (MCA). This is an important form that must be filed after company registration. By filing this form, they declare that they have not been involved in any criminal offenses under the law or any related acts. In this article we will let you know everything you need to know about the INC-9 form.
Who needs to file Form INC-9?
One must attach the INC-9 form of MCA with the SPICe INC-32 form dfuring the registration process of a company, The following individuals have to submit the form:
All subscribers of the company.
All first directors of the company.
Note: Non-Resident Indian (NRI) first directors and subscribers must use an apostilled service to validate the form.
How to File INC-9 Form Online?
Here is a step-by-step guide on how to file the form online:
Document the INC-9 form as an attachment to the SPICe+ INC-32 form.
You must duly fill the form and authorize it with the signature of the first director and subscriber before filing the SPICe INC-32 form.
Complete the company filing process.
For company filing, all first directors and subscribers must obtain a declaration and create a PDF document accordingly.
Who cannot file the Form Online?
It's important to note that not everyone can submit INC-9 online. The following can't file it electronically:
If the total number of subscribers and directors exceeds twenty.
If any directors or subscribers do not have a personal account number or Director Identification Number.
Other Important Pointers:
Section 9(1)(c) of the Companies Act of 2013, requires that any previous documentation submitted to the ROC within the last five years under any previous law must be genuine, complete, and true to the best of their belief and knowledge.
According to Rule 15 of the Companies (Registration Offices and Fees) Rules, 2014, each subscriber and first director mentioned in the INC-9 form of MCA must submit the declaration to the MCA.
The declaration by the first directors and subscribers should confirm their innocence regarding any criminal offenses such as ones related to the promotion, management, and formation of a company.
Form INC-9 format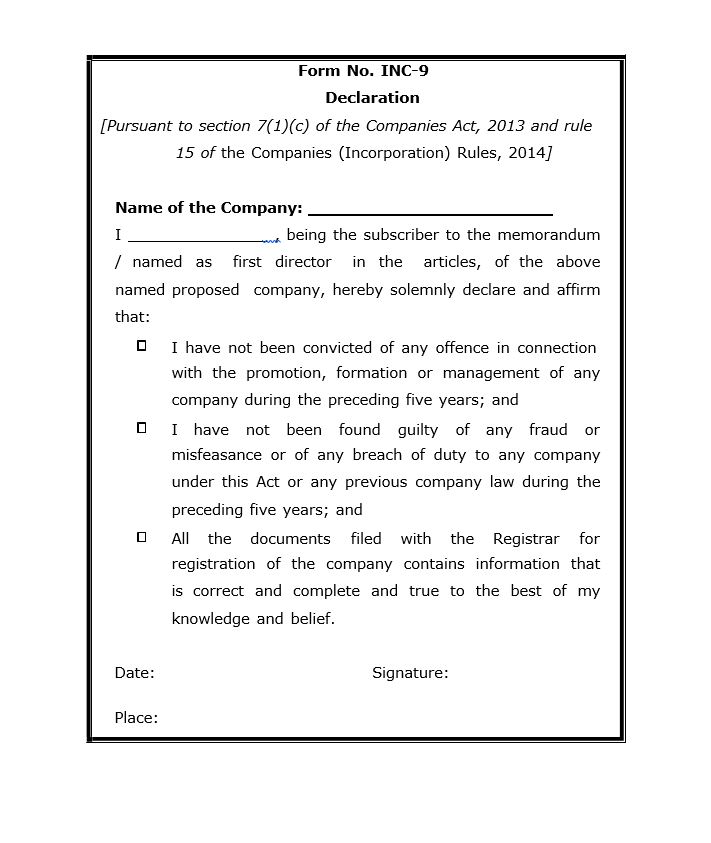 FAQs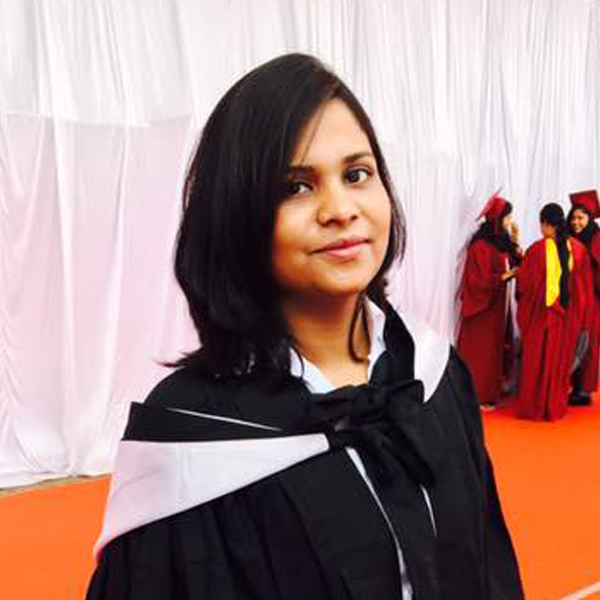 Sakshi Jaiswal
Law graduate with specialisation in Contract Drafting and Negotiation across a wide spectrum of Industries.