Understanding Compliance & Analysis in Businesses
What is Compliance?
Compliance is little more than merely being in line with many legal authorities' laws and regulations. Often it is challenging to obey and act according to each regulation, but failure to comply with specific laws can also contribute to the lack of certain opportunities. For example, obtaining a business license in your town and paying your tax on time provide easy enforcement examples.
Businesses are expected to comply with external legislation and regulations and comply with internal policies for business improvement. The enforcement demand increases with the growth of companies. Competence processes and improvements in foreign and domestic environments should be continued by organizations as well. Without interference by regulatory authorities, they will develop smoothly.
There is a necessity to comply with legal laws and follow corporate legislation though it keeps changing from business to business. If a company is looking to add value to its brand and market recognition, the first step is to act responsibly in the legal and ethical environment. This will save a lot of time, effort, and cost in the longer run.
Looking to keep your business compliant?
Seek expert assistance at LegalWiz.in to avail accounting and compliance services.
Importance of compliance
The organizations will benefit from prompt compliance with all applicable legislation, regulations and policies through smooth functions, reduced fines and sanctions and the preservation of their role in the industry.
The following are some of the advantages:
Better Employee Retention
Employees want to leave places of work if they have complaints or difficulties with the current workplace. A healthy working environment is created with successful internal enforcement where protection, employee benefits, and compensation exists in harmony. This productive working atmosphere encourages workers to work and increases the value of the company.
Less of Legal Charges
No business would like to bear the effects that different laws and regulations are not being complied with. Compliance with these laws decreases the risk of fines, penalties, charges, or the company being shut down. There are so many rules about how workers are to be handled, the production of goods, how to shop and sell, how to contribute to society, and so on. Obedience is the major challenge, but incentives are decreased penalties or punishments and a more significant market share when completed.
Competitive advantage to the businesses
The organization that observes all laws and regulations and has stringent internal procedures has a competitive advantage over those companies that have not complied with the criteria in due course. Government officials, stakeholders, workers and consumers are drawn to certain companies that strictly obey enforcement and avoid any wrongdoing by following standard ethics.
Better public relations
The performance of the organization relies heavily on its public image. When a company begins to face legal challenges or regulatory interference, the market or consumers tend to lose interest in it, and it can have a negative financial effect. Compliance means that an enterprise retains its public relations and has the right image.
Types of compliances
External Compliance
External compliance applies to enforcement with federal regulations, laws and guidelines to prevent any detrimental effects on the organization's goodwill. These laws help a company create public relations, confidence and accountability in its sector. Compliance with all regulations ensures that resources are unnecessarily duplicated. Some of the widths can be defined as follows: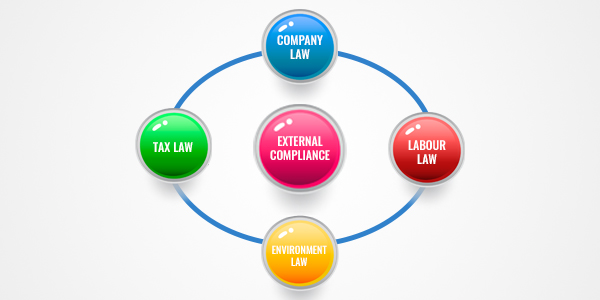 Internal Compliance :
Internal compliance is the enforcement that refers to a set of rules and regulations that are internally designed and enforced by owners, managers, traders and consumers to ensure the standard of services or goods offered by the company. Only when an organization works according to internal rules and regulations can external standards be complied with. Some big heads can be divided into as follows: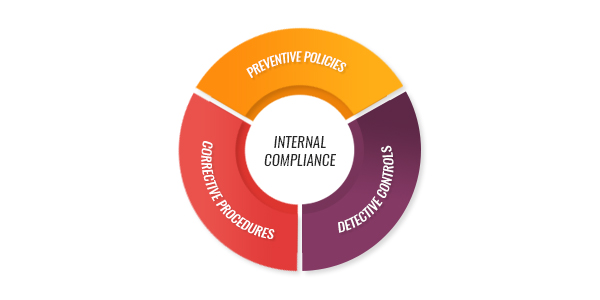 Example
An example of internal enforcement is when accounting departments follow the organization's procedures and, at the end of each month, reconcile cash and bank accounts and report to the internal auditor.
An example of external enforcement is when the company's statutory audit occurs by the due date of the company act.
Analysis
What does Analysis mean?
Research is about identifying problems instead of finding solutions. Data and evidence should be analyzed extensively to explain the issues and then provide the basis for problem-solving or decision-making.
In business terms, research means transmitting specific technical information to stakeholders and employees in terminology that is simple to understand. Each organization has its priorities and goals, which can only be accomplished if the companies can evaluate companies' various aspects in detail. To calculate the effect of any adverse effects, an analysis of multiple aspects is needed.
Any small or large business needs a 360-degree assessment of both the core and non-core areas. This review of core and non-core areas would help the company invest sufficient resources and enable organizations to achieve long-term objectives. In general terms, organizations should evaluate their costs, employee performance over various years and divisions, business performance, cash movement, and many other fields and concentrate on critical areas to achieve their long-term objectives.
Running a Private Limited Company in India?
Make sure you follow the continuous compliance requirments for the same.
Types of Analysis
Many analyses are available to companies using the facts and statistics to describe their current market position and how to develop the business internally and externally. There is a range of analytical forms that enable companies to recognize and address core problems and areas at an early stage:
SWOT/TOWS Analysis
ABC Analysis
Variance Analysis
Ratio Analysis
Cash Flow Analysis
Financial Statement Analysis
Profitability Analysis
Pareto Analysis
Example
Under Pareto Analysis, we evaluate the profitability of each of our customers. The results also surprise you, since the most significant customers are often less cost-effective than anticipated. This study leads to the achievement of the profitability objectives.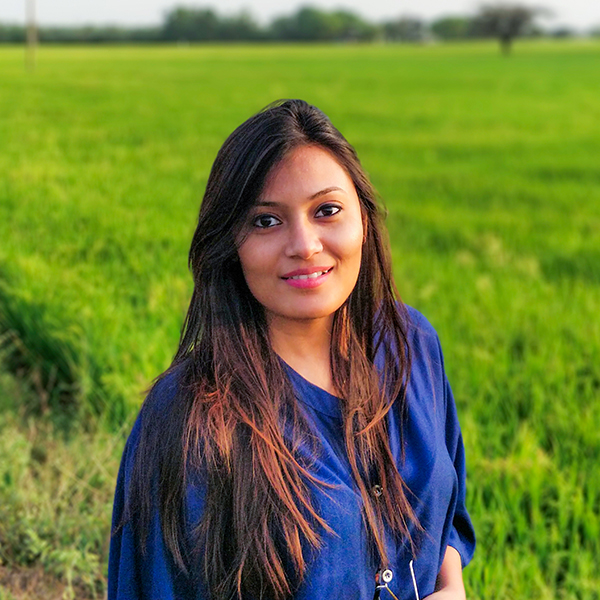 Labdhi Kochar
Labdhi, associated with LegalWiz.in since 2016, is a Company Secretary, Business Manager and Consultant for the company. She helps startups by giving them consultations and insights on their business development and growth. Labdhi is a BCom-LLB and has 4 years of Industry experience.