7 Things that Successful Start-up Founders Do Differently
We've all heard and seen the trueness of the famous phrase, "winners don't do different things, they do things differently". There are a lot more such phrases that work as a fuel for those trying to make their way over the boulevard to success.
Before this section sounds like an artistic work of some aspiring writer, let's talk about facts. According to 2017 census report for United States of America, average age of millennial starting own businesses is 27 and yes these are the same set of people who created over 2 million jobs from 414,000 startups in 2015 alone.
Everyone admires and loves to read about the success stories. However, as an aspiring entrepreneur, it is vital for us to understand what could go wrong in between getting a company registered and the day it failed.
What's next???
Knowing what's next is one of the important ingredient in creating success story for your business. My journey with LegalWiz.in gave me opportunities to interact and learn from startup founders across industries, and I tried closely analyzing the stories of successful and failed startups — specifically what were the things that successful startup founders did differently:
1- Analyze the odds instead of what can go right: The cream floats at the top and can be easily noticed. Yes, it's easy to have your eyes on and get attracted to the best. Well, even I was one of the kind until I read Poor Charlie's Almanack written by Billionaire Charlie Munger. It was after reading the work I realized that nothing can always go right. Things consistently may fall against your vision, target, and set goals irrespective of the hard work and dedication you have. For the same Munger says, "Invert". Look for things backward and know about the places where you don't want to go and ensure that you don't reach there. Well, if you do, you know the path and can come back as you've learned about the same while starting your journey. Smart indeed!!
2- Checklists are your best assistant: The multi-billionaire Warren Buffet categorizes mistakes in two sections; Ignorant and stupid. He says ignorant mistakes happen when you lack knowledge while stupid mistakes happen when you know better. While stupid mistakes are easier to solve, ignorant may take a fortune. This is where you need research and notes. Founders of successful startups never compromise with the learning part. Do the thorough research, make your notes, and stay handy with your checklist.
3- Stay focused on what matters: Effective individuals don't simply observe the 10,000 feet view; they're normally the ones that surface with it in any case. Since it's their vision that is the thing which catches their consideration. In fact that is the thing that issues to them, and that is the thing that they center around. That is the reason they're not effectively diverted by what doesn't make a difference — all the babble a great many people invest quite a bit of their energy doing, nowadays.
4- Aim to create value, not just wealth: Successful entrepreneurs hold long term vision, they don't sign up for short term gains. Stay focused on creating value for all the stake holders, and they will create wealth for you in return. Invest in right talent, and empower them with right tools and ambiance to perform better. Try to create right value proposition for your customers, and they will reward you with their loyalty. Worry more about keeping existing customers happier, than chasing new acquisitions with inferior retention. Customer acquisition costs are often higher than profits from first trade in digital businesses, and repeat purchases from same set of customer groups is what experts see as the true performance measure.
5- What's more in the box: No one knows it all, there is rarely any case like a "one man army" What's important is to have founders that complement each other. The groups that have correlative originators can separate obligations, center and go quicker. These groups can execute in parallel, and can develop the business quicker. Notwithstanding reciprocal ranges of abilities, incredible establishing groups have great science. They all offer the vision, finish each other's sentences, and radiate more positive vitality together than each founding partner alone. Successful founders never shy away from parting equity to get right set of co-founders in the game, and make the game larger — for everyone!
6- Managing the Cash Flow: Ok, this is really important. A study reveals lack of cash to be the second most seen reason behind failure of startups. Not being mean or greedy here but that's how it is. If you really want to wish the taste of success and see your startup sitting amidst the 'Big Boys' of the industry, it is important for you to manage your cash flows. Invest smartly and plan ROI. The two can be very helpful in accomplishing the task.
7- Adaptability: The best part about being an entrepreneur is that you face something new every passing day. Well, that's how you build the bridge and serve your potential clients with innovative approach. To get yourself moving with these never-ending changes, you need to first make yourself adaptable. Remember, things won't always be in your favor, and under such circumstances it's you who has to transform and make it all fall in your lap. Being nimble is the edge startups have over larger companies, use that in your favor. Fail fast, fail forward, and keep innovating!
Hope you find this helpful, and it will make a positive impact to your entrepreneurial journey. Feel free to add your thoughts in the comments section.
I will leave you for now with a TedTalk video of Bill Gross, a quantified insight into why companies fail or succeed…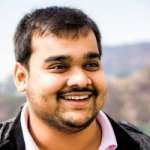 Shrijay Sheth
Shrijay, co-founder of LegalWiz.in, is best known for his business acumen. On this platform, he shares his experiences backed by a strong understanding of digital commerce businesses. His more than a decade-long career includes a contribution to some of the highly successful startups and eCommerce brands across the globe.