Staying Agile: How entrepreneurs can react proactively to adversities?
We have entered the last quarter of 2020 and pegged down everything best we could to sustain the crisis. This makes us living in an age of challenge and uncertainty. Globalization, emerging technology, and greater openness have combined to boost the corporate climate and give a heavy feeling of unrest to many entrepreneurs.
Give this a thought – most tactics aim to create a permanent (and indirectly static) competitive advantage by creating a smart market positioning (dominant size or desirable niche) or by putting together the correct capabilities and skills for selling. I have seen businesses study their market in worse times like these and predict how it will grow after hitting rock bottom. Sure, many organizations are already conducting periodic strategic assessments and identifying guidelines and organizational structure that suits the current situation.
Being in the compliance business, I have seen people changing business structures; for instance, they would go ahead to register LLP online over a mere partnership structure to leverage the business advantages of creating a separate legal entity. This means we mix fundamental changes on the one hand and operational efficiencies on the other. It all boils down to how we react to the hardships and come back with a fix that minimizes the blow and gradually punches the tough times on the face.
Here are some core brainstorming sessions to have with your team before you plan to counter the adversaries in the coming time and be a real agile organization.
Also Read: Top 10 Businesses you can start quickly during the COVID-19
How can my team adopt and apply the scale or position-based frameworks and capture a large market share?
If my business overlaps multiple industries, how would I know where one industry ends and a different industry starts. How do we calculate the position?
How do we use the conventional assessment and analysis at the core of strategic planning when the world is so unpredictable?
How do our managers take the right calls to recognize and harness the environmental/external changes when we are overloaded with ever-evolving information?
How can a one year – or worse, five year – planning period remain essential when change is so rapid?
From the first day of being an entrepreneur, I told myself and everyone around that my business mission was to influence the lives of millions of people. Entrepreneurs thrive in a compassionate ecosystem, and lifting other businesses with your services is the best gift you can offer to the startup ecosystem.
With every struggle, I realized that the rewards of accomplishing my overall goal were much more significant than any unpleasant circumstances I had, so I was able to deal with them even the most challenging times. This is now one way to cope with this. To give you some more ideas on dealing with adversity, I have decided to list down my experiences with other entrepreneurs and blend it with my experiential learning to provide the words that matter the most in the current pandemic situation.
When faced with a challenge, a common strategy is to consider each problem as a solution. Of course, some ideas are more appealing than others. There are tools to search for information and support everywhere these days. A good network is often an excellent idea since the solution always comes from one system.
As entrepreneurs, we don't resolve a hurdle because we don't know what to do, so we do nothing. For me, I'm focusing on something and trying to learn from whatever is thrown. The goal is to implement learnings quickly. Sometimes, the only way to resolve an obstacle is by failing to produce the right result. We must continue to change our approach before we get what we want.
I try to think of previous milestones to note that they weren't flukes. Then I try and spend a lot more time with existing and potential customers, spend more time and bring more value to current work, to improve all the good work I have carried out, instead of anticipating the one thing that goes wrong.
It will be great to see entrepreneurs considering setbacks and even failures as a Launchpad to growth. Partly, the ambitious leaders are responsible for such shortcomings because they set goals so high at first only to fail later on. This also includes me. With time, I realized that setting audacious goals needs a match with bold actions, especially in times of uncertainties.
Try accepting occasional setback as they are a part of consequences – it is not a life and death situation. The only thing that can create a difference in your mindset as an entrepreneur. A mistake is a mistake only if you do not learn from it.
My everyday life and business philosophy are about optimism – the glass is half-full. When adversity hits, I'm still asking myself, what is the worst thing that might happen in this situation? 'Then I'm going through the worst scenarios,' we could lose the client… get a negative review, and whether or not the brand will sustain the force of bigger, loaded brands.
Also Read: Entrepreneurship lessons that my dad taught me!
Then I wonder what is likely to happen realistically to one of those doomsday scenarios and what steps can I take to alleviate it? This method helps me ease my worries or concerns and concentrate on the steps needed to solve the problem quickly.
So how does an organization in tough times innovate and adapt? Working with one another is crucial because you need to put together heads to build strategies to make a company succeed in tough times like this.
It is unlikely that an employee or department would have all the expertise and management tools, so it is necessary to put whole teams together. Also, organizations must take calculated risks quickly and ready, as a time for action and the ability to stand still.
The pandemic has pushed businesses to evolve, adapt, and eventually make it possible for entrepreneurs to find best of the inspiration that helps sustainable survival in the market long after the pandemic is over.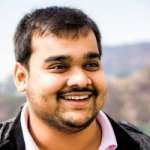 Shrijay Sheth
Shrijay, co-founder of LegalWiz.in, is best known for his business acumen. On this platform, he shares his experiences backed by a strong understanding of digital commerce businesses. His more than a decade-long career includes a contribution to some of the highly successful startups and eCommerce brands across the globe.