Carving an Online Retail Space for Women, By a Woman!
Introduction
The second day of Navratri represents the day of 'Brahmcharini', a Goddess who is worshipped for her endowment of peace and prosperity, symbolizing the bliss and calm energy. And our today's feature is on Suchi Mukherjee, the one who rides in a blissful state of entrepreneurship while being utterly calm in all the ups and downs.
She is the founder and CEO of India's first exclusive female online shopping portal Limeroad.com, founded in 2012. She was amongst the 15 women voted for 'Rising Talent – Global Leaders Under 40' at the World Women's Forum in Paris in 2010. That was for her contributions in scaling businesses encircling consumer technology.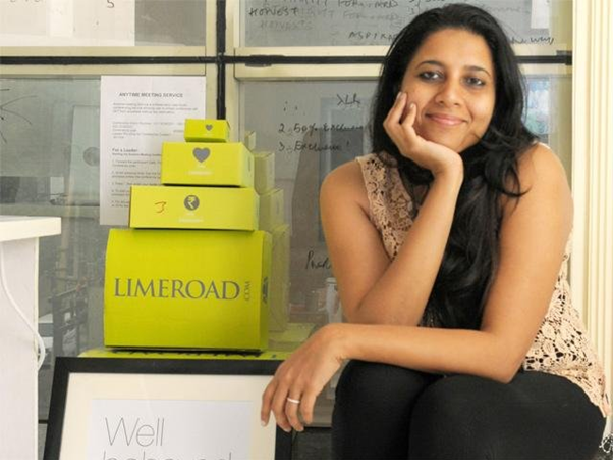 It takes more than just a daydream to wake-up, realize, and put down all the efforts confidently on something that you firmly believe in. From flipping through magazine pages and landing on a piece of jewellery, to launching an exclusive online store for females to get their desired products defined a success path for Suchi Mukherjee.
The Beginning
It is said that you just need to add flame to the fire for it to burn. Her inability to reach out to the sellers of that jewellery motivated her to make it possible for other ladies to get their desired products. This is what now stands as India's e-commerce giant – LimeRoad.com
Hailing from a middle-class family in Haryana, she raised to become a dreamer.
She got her education in Maths and Economics from Cambridge, and later, Finance and Economics from the London School of Economics. Soon after she completed her Master's degree, Suchi started her career.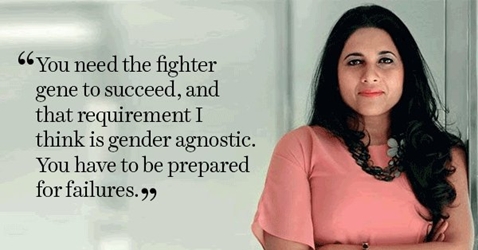 At 25, she started working at Lehman Brothers Inc. as a Senior Associate for Corporate Finance. A top quality experience for half a decade and Suchi navigated to Virgin Media in 2003 as a director for Change and Business Development.
A couple of years there and a jump to join eBay just transformed her career to a great extent. This not only helped her expand the hierarchical position in the organization but inflated the knowledge-base of understanding the way business functions for real. From there to even being a Director and Member of Executive Management. But as always, no entrepreneurial journey is complete without the challenges and her road, too, was filled with obstacles.
Sprouting the idea of Limeroad
Working in an authoritative position that involved quick, analytical decision making, she was nurturing an entrepreneur in her head. Tough to realize at first, her routine, work pattern, and environment inspired her to conceive thoughts in a rather progressive manner every time she takes a driving seat.
There were two crucial gaps that Limeroad.com intended to fill.
A complete absence of consumer technology making it easier and entertaining for females to find their required local accessories and products.
No available online platform sharing product information including the details of manufacturer and shipping made outside of India. Her Idea worked like a bridge to connect India to the virtual world.
This where Suchi identified an opportunity to proliferate in a market where there was a dire need of dedicated women portal to discover affordable accessories and products. Understanding women and her needs, she knew that women love to explore options prior to zero down her selection.
It was her understanding of the business that led her to go to the root of the problem – product discovery. Moreover, she found that jewellery and watches make up for a good amount of market share total market followed by apparel. 21% of manufacturing of lifestyle products originated from India.
There were plenty of unrecognized vendors who were not able to put their stuff across their targeted users. This stands true for those who even had the potential to export the products. She was successful in identifying the right balance between the supplies and demands. That's when she decided to fly back to India and work on it.
The Roadblocks to Success
Starting a new business in India is not a hassle-free task at all. Suchi Mukherjee had to deal with a lot of legal processes to register a company while she had no prior experience of dealing with legal processes in India.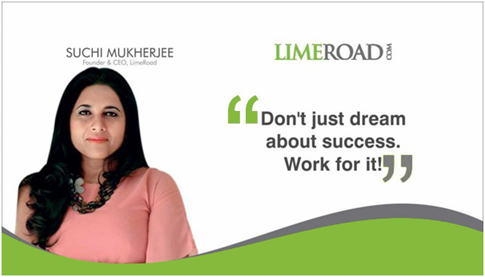 Another challenge was to find a perfect work-life balance. She is of an opinion that women may find it tough to be an entrepreneur since she has a few basic familial commitments. But the thing with Suchi was that her family stood by her, supporting her throughout all the thick and thin.
Carving the Journey
The challenging part was to rope in big heads and not let her plan go haywire at the execution level. To ensure this, she first got hold of her friend Ankush Mehra who then served as the Head of Supply Chain at Reliance Hypermarkets. He was roped in as a co-founder. And later, Prashant Malik who came with a wide experience at Facebook, Microsoft and Siemens, joined Limeroad.com as a techie and later other prominent people joined in gradually. 
The idea was to give women their "me time" and bringing another female entrepreneur for selling their art and products. A revolutionary idea was put-forth by Suchi who gave women the opportunity to curate clothing combinations even though they were not having any experience in doing so. This made women the ambassadors for Limeroad. Her idea sprouted a spirit of entrepreneurship in other women, leading an example for other women to penetrate their business.
Conclusion
It was in 2015 when she won the award of Women of the Year by Digital Business by INFOCOM. Later in 2016, she received the NDTV Unicorn Woman Entrepreneur of the Year award.
Today, Limeroad aims to reach out to more than 400 Million mobile users, 40-50% of which are women. From just an impromptu idea to making Limeroad a frequently used application, Suchi Mukherjee has achieved a lot. Her journey of dedication and hard work is something that every upcoming entrepreneur should learn from.
Although she had a few challenges which amounted to great achievements over time, she has built Limeroad into what it is today – a prominent online market.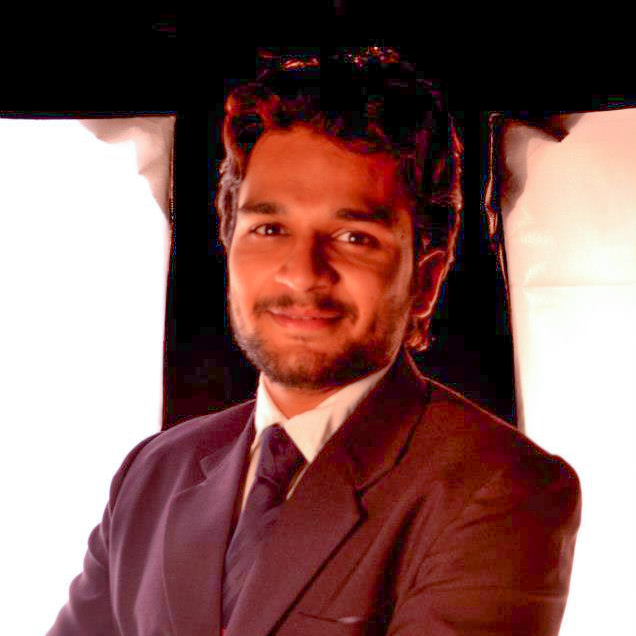 Karan Dave
Karan Dave is a seasoned writer associated as a content expert with Legalwiz.in. He has blended his interests in business solutions and starup economy with the writing capabilities to provide resourceful information for varied audiences.