How to download LUT Certificate in GST?
GST-registered exporters in India have many ways to get subsidies from the Government. One such way to get an exemption from payment of the integrated goods and services tax (IGST) is to furnish LUT online on the GST portal each year. All exporters who do not furnish an LUT or the export bond (as applicable) will have to file their IGST annually, and then claim for the refund. This process can become extremely tedious. Hence, exporters need to have GST registration to keep a valid LUT certificate in hand while conducting business! Through this article, we will focus on the steps to download LUT certificate once you apply for LUT in India.
How to download LUT Certificate?
To download LUT certificate from the GST portal, you will have to follow the following easy steps:
Step 1: Visit the GST Portal
Click here to visit the portal.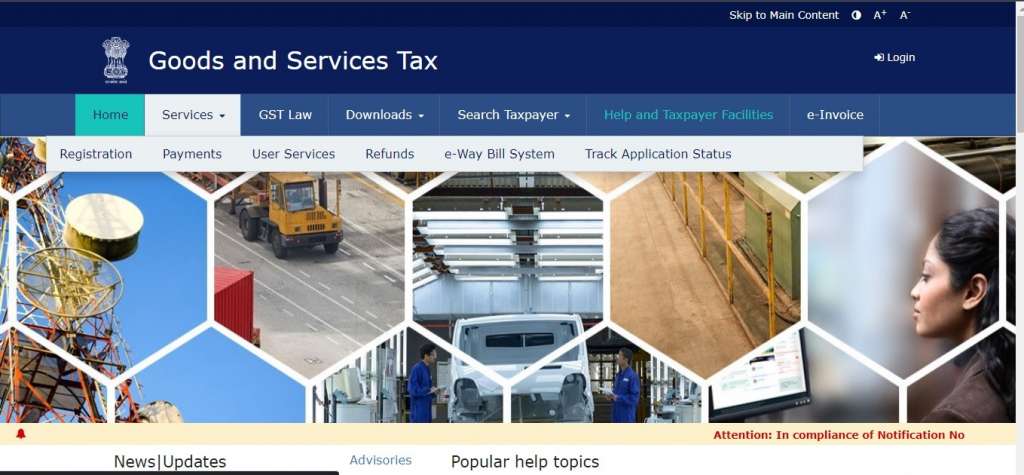 Step 2: Login to download LUT certificate
In order to be able to download the LUT certificate, you will first have to login to the GST portal using your login credentials.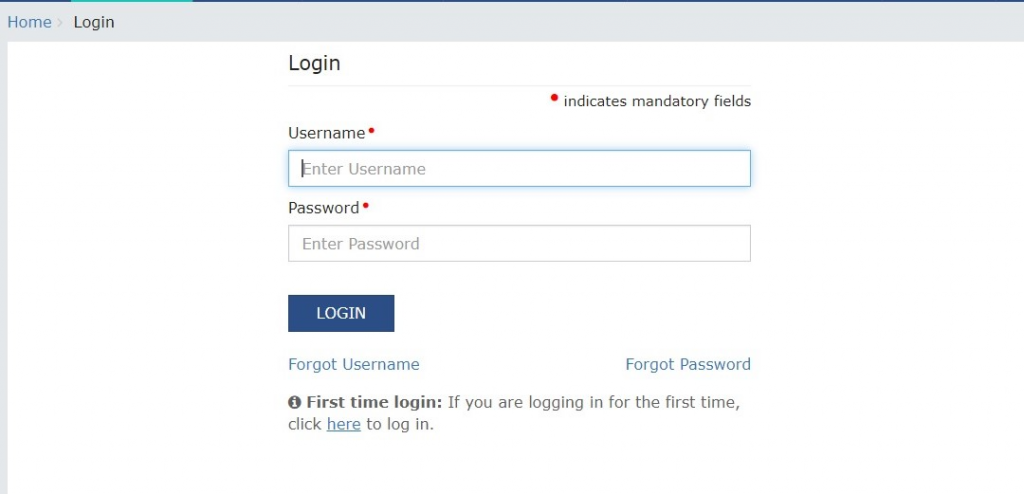 Step 3: View the submitted LUT
Once you login to your user account successfully, you will be on the homepage. Navigate to 'Services', then select 'User Services' and click on 'View my Submitted LUT' from the drop-down list. This will lead you to your all LUTs, wherein you can select the LUT certificate to download.

Step 4: List all LUT Certificates
After you click on 'view my submitted LUTs', you will be navigated to the list of all the Letter of undertaking that you have furnished on the GST portal, to date. You can filter the LUT Certificate you want to download by adding a date filter, as shown below.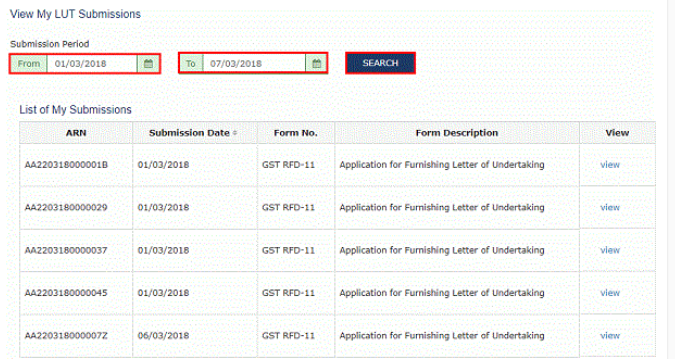 You can click on 'View' to display the LUT certificate of your choice.
Step 5: Download LUT Certificate
As soon as you choose the certificate you want to download, and click on 'view', you will be navigated to that specific certificate. You can then view the details and download it by clicking on the 'Download' button displayed on the bottom right. You will be able to download the PDF format of the downloaded LUT certificate, which can later be printed in physical format if required.
Why is furnishing LUT important?
Since the inception of the GST Regime, IGST applies to all exporters. Now, the exporters having GST registration have two options:
They can either pay the IGST and claim it back in the form of a refund; or
They can carry on the export without payment of IGST, by furnishing appropriate LUT or Export bond.
Hence, furnishing appropriate LUT makes it easier for exporters to export their goods and services from India. With that said, you can download LUT certificate and keep it for future purposes. Even the process of furnishing a LUT certificate is so easy! Read more in our blog "How to file LUT in GST?"
Timeline for availing of LUT Certificate
The GST portal does all necessary verifications in real-time when any individual submits the form. As a result, you do not have to wait for more than 10 minutes after you submit the form to be able to get the LUT certificate. However, all Letters of Undertaking are valid only for the financial year for which they are submitted in. Once the financial year ends on 31st March, you need to apply for the LUT Renewal in India.
Conclusion
The concept of furnishing LUT under GST is a boon for all registered exporters. Having a successful export business in India takes a lot of hustle. Especially now, since the competition in this market is also increasing. In such scenarios, it is much wiser for business owners to be worried about their business plans rather than focusing their energies on ancillary governmental registrations. Platforms like LegalWiz.in, with experienced professionals can not only take care of your registrations but also help you with your LUT download, reminders for renewals and more!
Frequently Asked Questions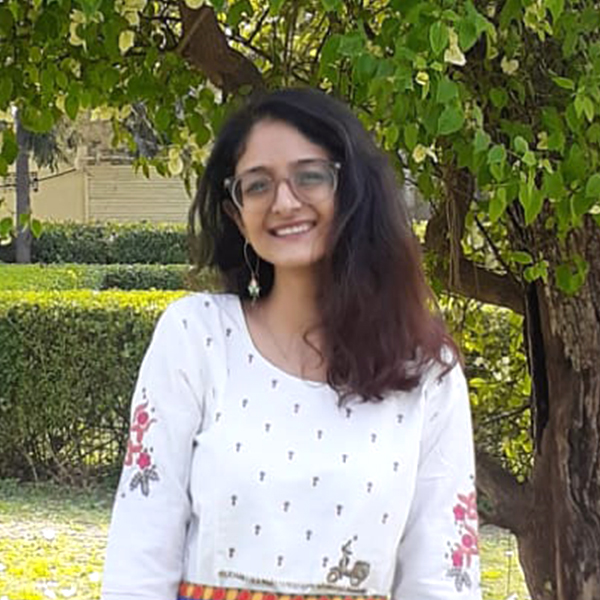 Diksha Shastri
As a writer, Diksha aims to make complex legal subjects easier to comprehend for all. As a Lawyer, she assists startups with their legal and IPR drafting requirements. To understand and further spread awareness about the startup ecosystem is her motto.