How to apply PAN card for a Company?
The permanent account number known as PAN is a crucial document for any taxpayer. It is ten unique characters with letters and digits. Income tax act, 1961 covers the details of PAN cards. Any company incorporated and doing business in India will have to apply for PAN card for company. Any form of business that is making revenue will have to acquire a PAN card for company mandatorily. You have to enter your PAN number during all the company's financial transactions as well as in the registration and invoices. Moreover, a pan card is one of the mandatory documents required for a private limited company and other business structures.
Required Documents to apply PAN card for company?
Copy of incorporation certificate of the company granted by the registrar of companies.
Company's address proof where its registered office is located.
If the company does not have an office in India, a copy of the certificate of incorporation from the government, where there the registered office of the company is located shall be apostille by a resident of the country, by the Indian embassy or high commission or consulate of the country where the registered office of the company is located. Also, you will have to submit the certificate allocated by Indian authorities to establish a business in India.
You will have to submit the demand draft for payment of fees along with the application.
Why do companies require a company PAN?
As mentioned earlier, a PAN card is one of the essential documents for a company. The government of India made the PAN card for companies compulsory for all entities that are generating income in-country, whether it is a company, individual business, a HUF, partnership firm or trust. Having a PAN card for the company is advantageous for the company in many ways.
A PAN card for company is the tax identity of your company.
The income tax department uses the PAN to track all financial transactions. Even if you do not fall in the tax bracket, you will have to obtain a company PAN. 
Government considers it an act of concealing the information if companies do not have a PAN card for the company and generate income. 
A company PAN will help a company submit income tax returns and obtain various types of remittances and invoices.
The online application process for company PAN card
Step one
Visit the NSDL website. Choose the form 49A or 49AA from the application type dropdown menu.
Step two
Select the category firm and then fill in details such as company name (in the last name box), company incorporation date, contact number or email ID.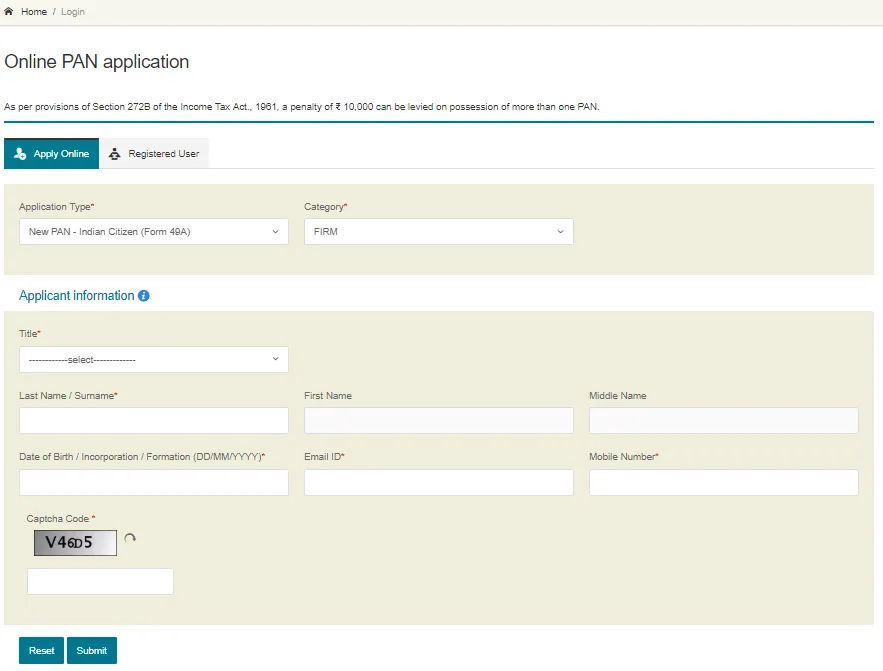 Step three
Next, fill in details regarding the company, such as the company's registration number, financial information, and mailing address.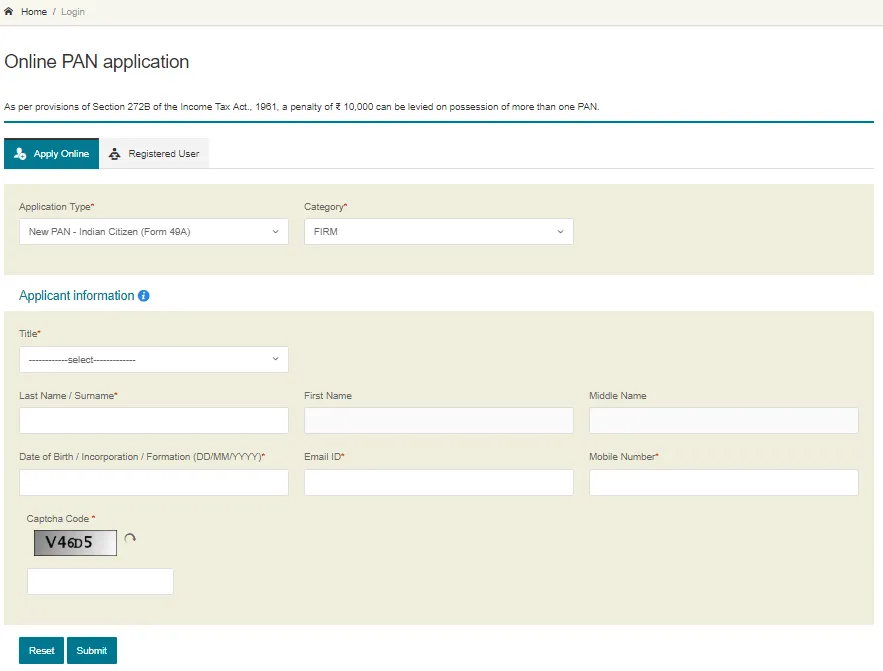 Step four
Next you have to fill in your AO code. To find your AO code, you can go to the 'AO Code Search for PAN' page.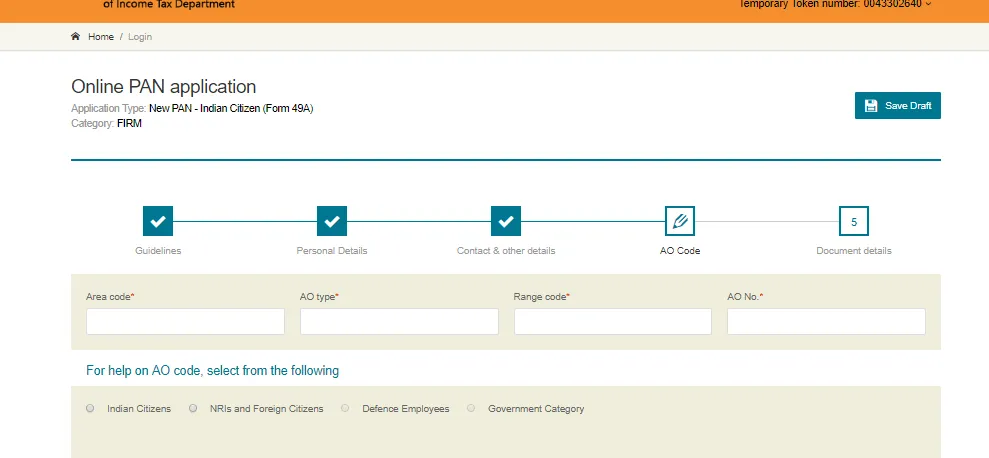 Step five
Finally, upload all the required application documents and Pay the required fee. Documents include Proof of identity, proof of address, etc. After uploading, click on "Submit", and your application for PAN for company has been successfully filed!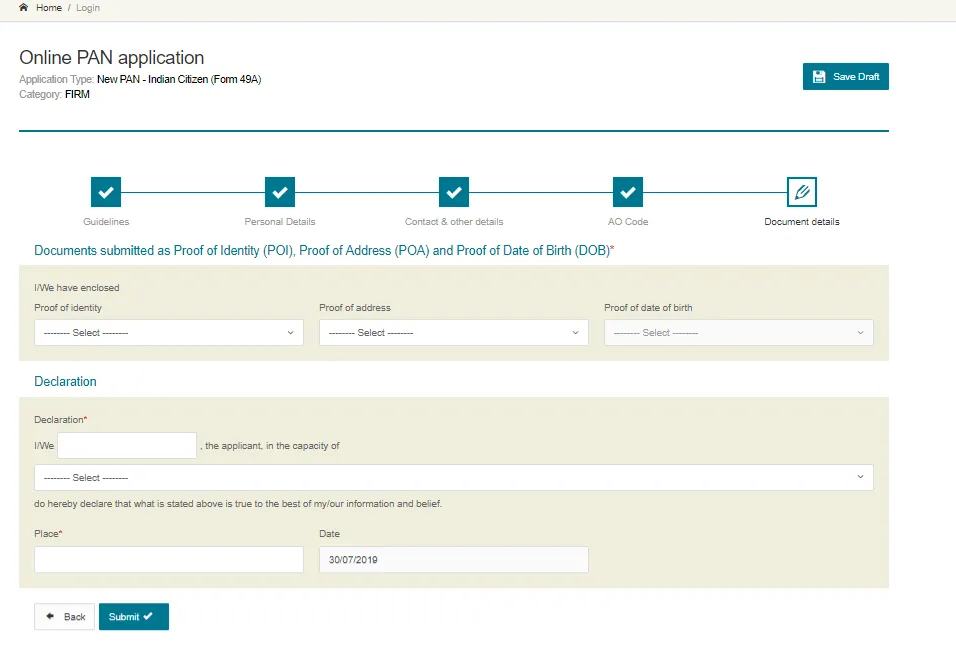 Step six
An acknowledgement receipt will be provided via email. It will have an Acknowledgement form (pdf) and an Acknowledgement number. You should note down the number as you can use this number to track the status of your PAN card.
Step seven
Finally, you have to print, duly-fill and send the acknowledgement form within 15 days to the NSDL office at the address given below. You also have to attach a copy of your company/firm's registration certificate with it. Note: If you'd chosen demand draft as your payment method earlier, you have to send the demand draft with this form itself.
Income Tax PAN Services Unit,
NSDL e-Governance Infrastructure Limited,
Firth floor, Mantri Sterling, Plot No. 341,
Survey No. 997/8, Model Colony,
Near Deep Bungalow Chowk, Pune – 411016.
You should keep these things in mind:
The envelope has to be super-scribed with 'application for PAN with acknowledgement'.
Application with the DD will be processed on receipt of proof and after payment.
Apply for a PAN card for Company Offline
The process to apply for the PAN card for company is straightforward, and you can initiate the process online as well. Companies incorporated in India will have to submit Form 49A to apply for the PAN card for company. Foreign citizens can also apply for the PAN card through form 49AA.
Download the copy of form 49A and print it from the NSDL site or UTIITSL website.
Fill in the form and attach the necessary documents.
You will have to submit the form along with attachments to the nearest NSDL processing centre. You can access the processing centre's address from the TIN website of the government.
The concerned department would grant you an acknowledgement receipt as proof of submission.
After the verification of documents, authorities will deliver the PAN card to your registered office of the company. The application fee will be Rs. 110. 
Conclusion
In a nutshell, obtaining a PAN card for your company is not just a legal requirement but a vital step towards ensuring proper tax compliance and financial credibility. It serves as the company's tax identity and enables the government to track its financial transactions. By acquiring a PAN card, you can easily submit income tax returns, handle remittances, and generate invoices. The application process can be conveniently completed online, ensuring a hassle-free experience. So, don't delay any further—apply for a PAN card for your company today and pave the way for seamless financial operations and compliance.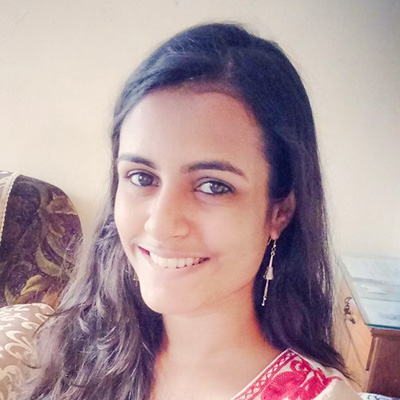 Benazir Shaikh
Benazir Shaikh is a company secretary pursuing her Internship at LegalWiz.in. She prospects to make a career in Legal & Secretarial field.