Process to update Udyam Registration
Introduction
The Udyam Certificate is a digital certificate that businesses acquire after successful completion of their MSME registration process. The new and improved Udyam Portal for online Udyam registration was established by the Ministry of Micro, Small, and Medium Enterprises to aid and advance the growth of MSMEs in India. The portal provides support and resources to help digitize and optimize MSME operations. Typically, it takes one to two weeks for the Udyam Certificate to be issued once the Udyam Registration Number has been created.
A vast number of small and medium business owners have enrolled in the Udyam platform, with over 10 Lacs of them having received their Udyam Certificate. However, some may find mistakes on their certificate or have questions regarding why certain information, such as their name or state, cannot be altered. Keeping your Udyam Registration Updated is vital for you to be able to keep enjoying all your MSME benefits.
This article outlines the Udyam registration update process, also known as MSME certificate update and what can and cannot be changed. Please note that while some information can be updated on the Udyam certificate, certain critical information cannot be altered.
Updating Your Udyam Registration Certificate
Unalterable Information for Udyam Registration Update:
Candidate Name
District
State
Aadhaar Number
Updatable Information Udyam Registration Update:
Business Name
Contact Information
Address
PAN number in specific cases
Bank Account Details
Documents Required for Udyam Registration Update
Udyam Registration Number
Registered mobile number and email address for OTP
Steps for Udyam registration update process
Step 1
Firstly, for Udyam update, go to the official Udyam registration website
Step 2
Secondly, for the Udyam Registration Update process, click on the "Update Details" tab on the ribbon
Step 3
Thirdly, you will see a drop-down menu. Click on "Update/Cancel Udyam Registration".
Step 4
After that, the website will redirect you to the Udyami Login Page. On this page, you have to enter your Udyam Registration Number (URN), and mobile number, and pick whether you want your OTP on your phone on email id.
Step 5
Once you've put in the required details, click on validate and generate OTP. You will receive an OTP at your preferred location within moments. Enter the OTP in the box and click on "Validate OTP & Login".
Step 6
Finally, after successful login, you will be able to see your Udyam Registration certificate. Click on the "Edit Details" button at the top-right to start editing the necessary details for Udyam update.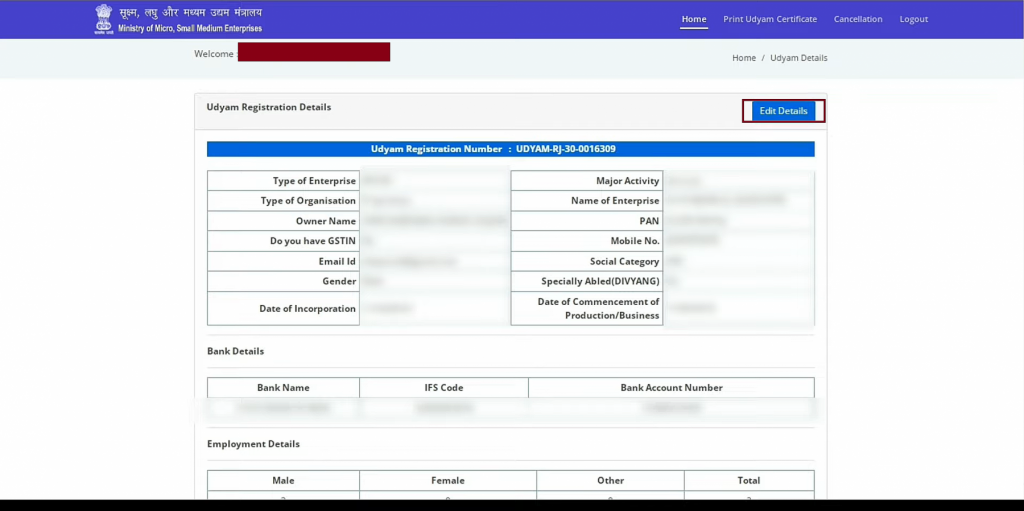 Step 7
Next, after clicking on the edit details button, the page will refresh to show an editable-form with your registration details. Accordingly, you can edit the information in the relevant fields.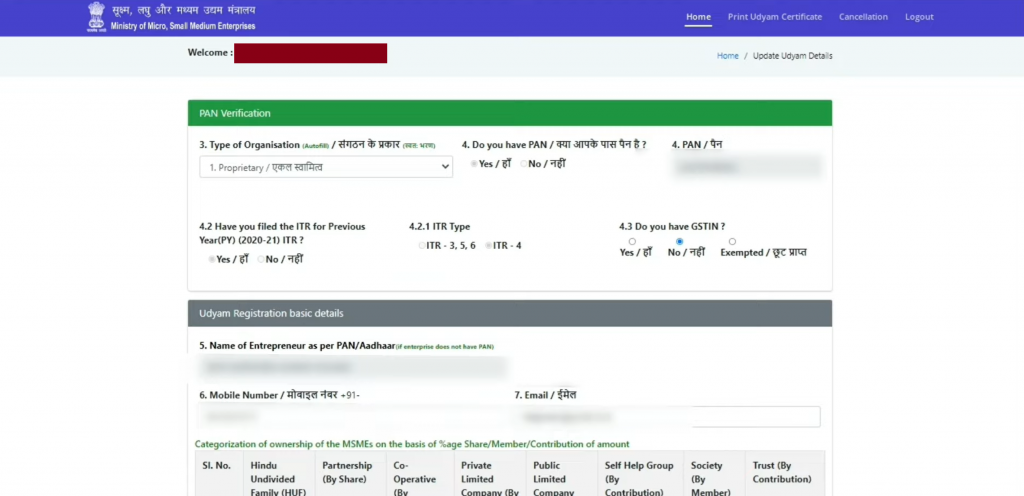 Step 8
After you've finished editing, click on the "Update details" button. This is the last step in your online MSME certificate update process.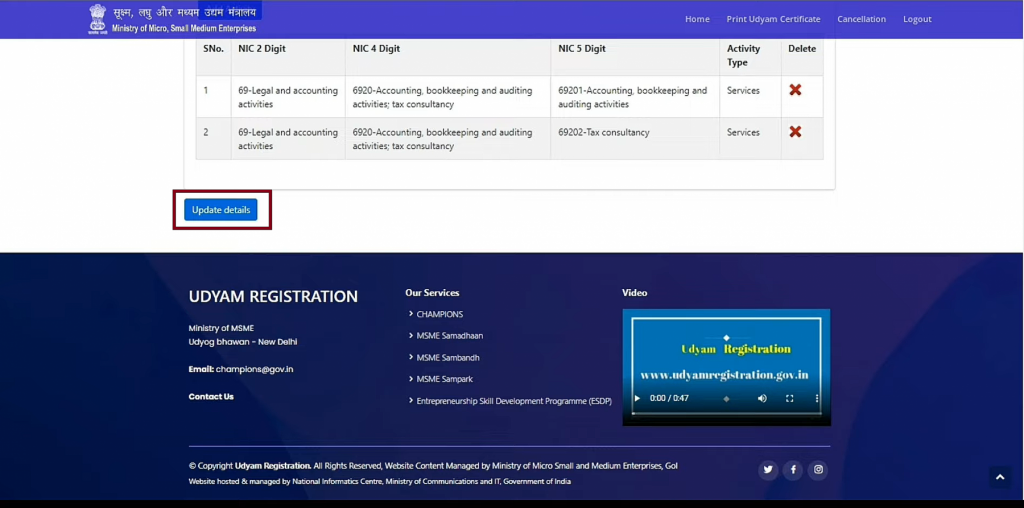 Step 9
After this, representatives will review and accordingly approve your updated details. Within a few working hours, an updated certificate will be sent to your registered email address.
Alternatively, to download or print your updated Udyam certificate you can also follow the steps provided in our article on How to download and print Udyam Registration.
Conclusion
In conclusion, the Udyam Registration process is a vital step for small and medium-sized businesses in India to legitimize their operations and receive government recognition and support. While some mistakes may occur during the registration process, it's website offers a simple and straightforward way to update the certificate online. By following the steps outlined in this article and gathering the necessary documents, business owners can ensure that their Udyam Certificate accurately reflects their business information. The ability to update details like business names, contact information and bank account details can aid in streamlining business operations and growth. The Ministry of MSME remains committed to supporting and advancing the MSME sector in India through the Udyam platform. Keeping your Udyam registration updated is very important to be able to access the different Udyam benefits.
Frequently Asked Questions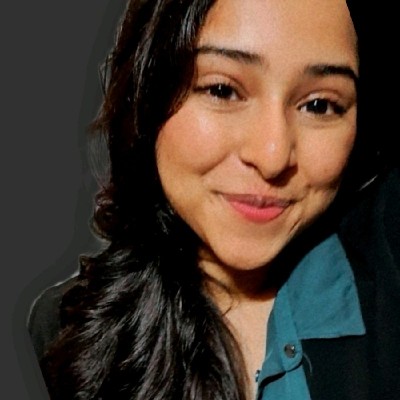 Monjima Ghosh
Monjima is a lawyer and a professional content writer at LegalWiz.in. She has a keen interest in Legal technology & Legal design, and believes that content makes the world go round.