How to Check Company Name Availability on MCA?
People often confuse a company name with a brand name. A company may have multiple brands, but a brand always belongs to a company. For example, One97 Communications is the name of a company that owns the brand "Paytm'. While a brand name can be anything you want, the name of your company needs to be unique and distinctive. To make the process of company registration in India easier, the MCA portal facilitates company name search. Keep reading to know how to check company name availability.
When to check company name availability?
Company registration is a step by step process. The first step thereof is applying for the unique name reservation by submitting the RUN form. Since there are only two re-submissions allowed, the MCA allows a shot to check company name availability through its assigned portal. This name availability search allows you to figure out whether you should file a RUN application for it or not.
Further, since the company name is directly attached to the goodwill of the business, it is a very important aspect of the registration process. Hence, it is advisable that you check the company name availability before moving ahead with filing the company registration forms.
How to check company name availability
Step 1: Visit the portal
The first step you need to follow for a company name check is to visit the MCA portal. Click here.
Step 2: Select Check Company Name
From the menu on the portal, select MCA Services >> Company Services >> Check company name.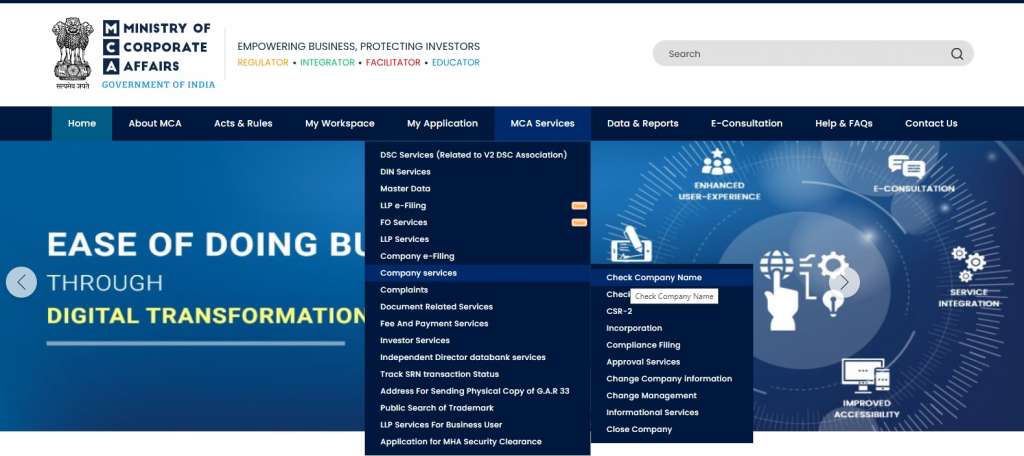 Step 3: Furnish the details
You will be redirected to the company name search page. Here you need to enter the following details :
Proposed name or names; and
Business activity.
Then click on "Search".

Step 4: No company name availability
If you have entered a phrase, which is similar to other existing companies, a list of all such names will be displayed. This means that the name you are opting for company name search is not available. However, this list will allow you to see the similarities and create variations for your other proposed names.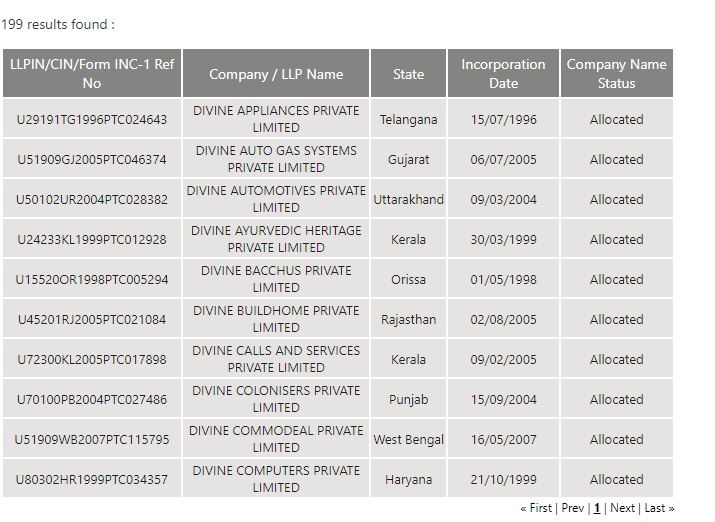 Step 5: Company Name Available
If the name entered by you does not have any similar existing names, then you will see the following message on your screen. This means that the company name is available for registration.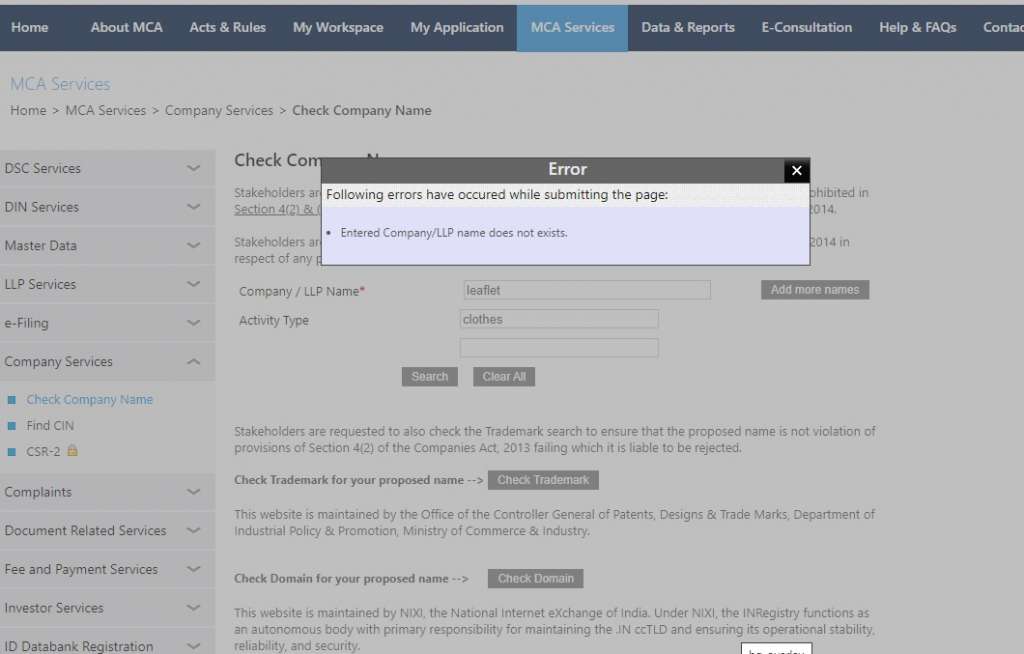 Trademark Search
Once you complete the company name check, you also need to check the availability with the Trademarks Registry. This is also highly advisable, because as per the governing norms, a company name must not infringe any trademark rights. You can conduct the trademark search easily by clicking on 'Trademark Search'. For a detailed guide, you can refer to this blog "A simplified guide on the process of trademark search in India".

Domain Search
Considering the emergence of web based businesses, the company name search portal of MCA also allows owners to do a domain name availability search, as a part of the check company name process.

How to Choose a Company Name: Key Factors to Consider
As per the Companies Act and associated rules, there are certain restrictions of choosing the company name. So, before you move forward with checking company name availability, you can keep the following in mind:
The proposed name must not resemble the name of an existing Company or LLP
While considering the similarities between two names, the MCA considers minor modifications in grammar, spelling and phonetics to be 'similarities'.
For Example,
a) Disc Solutions Ltd. is the same as Disk Solutions Ltd.
b) Hena Enterprises is the same as THE Hena Enterprises.
c) Ravi Technology Ltd. is the same as Ravi technologies Ltd. and Ravi's Technology Ltd.
d) Ascend Solutions Ltd. is the same as Ascended Solutions Ltd. and Ascending Solutions Ltd.
e) DK enterprises Ltd. is the same as Dee K enterprises Ltd. and D Kay Enterprises.
Central Government considers certain words to be undesirable for a Company
The list below provides certain words that are restricted by the Central Government unless prior permission is granted for the same,
Prohibited words under section 3 of The Emblems and Names (Prevention of Improper Use) Act, 1950.
Use of trademarks registered under the Trademark Act, 1950.
Terms considered offensive by any class of Individual(s)
Use of words 'British India'.
Any word that implies an association of your Company with the Central or State Government.
Any term that denotes your company's association with an Embassy or Foreign Government.
A word that signifies an association with a National Hero or esteemed person. For instance; "Mahatama Gandhi Enterprises" cannot be the name of a company.
Only a Government Company can use the term 'State' in its name.
The name of your company cannot be only the name of a State, City, Country or Continent. Such as Mizoram Pvt. Ld., or New York Enterprises, etc.
It is prohibited to use the name of an Enemy Country (as listed by the Central Government).
The description also Matters!!
When choosing a company name, the name of your company can not be only the words that describe your business activity. For example, a silk manufacturer cannot name his company as "Silk Manufacturers Pvt. Ltd." You must also keep in mind, that in order to use words such as "Bank" or "Stock Exchange" you need prior authorisation from regulatory authorities, such as RBI or SEBI respectively. Further, if your business activities include any financial facilities such as Insurance, Investment, or Finance, these words must be a part of your Company name.
Also Read: How to obtain SEBI Approval for Company Registration?
Using the name of a Dissolved Company
Using the name of a Company already dissolved is allowed after the passage of a certain time period. For a Company, if 2 years have passed after dissolution, and in the case of a dissolved LLP, if 5 years have passed, you can use its name for your own company.
Hope this helps you understand how to choose a company name for your business. Now after considering all the above mentioned factors, you can move ahead to the MCA Portal and check company name availability.
Conclusion
This was the guide to conducting a company name search. We hope this helped you understand how to check company name availability in India. You can easily check company name availability on the MCA portal following the above steps. Though, it should be noted that MCA has the final authority over accepting or refusing the proposed names.
Planning to Start a New Business?
Consult Experts at LegalWiz.in for Registering a Private Company!
Frequently Asked Questions
Can my brand name be the same as my company name?

Yes, you can definitely use one name for your company and its brand. However, if that is the case, you will have to ensure that the name is available for company and brand name registration both.
What is the fees to check company name availability?

There are no costs associated with checking the availability of a company name. You can do so easily, without any charges.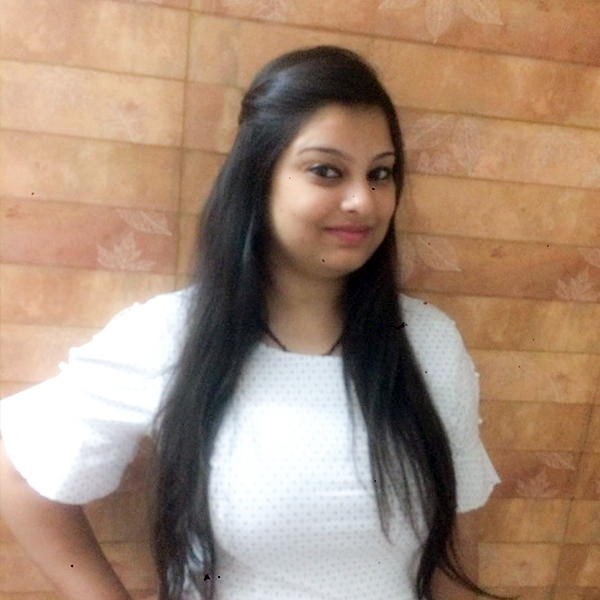 CS Shivani Vyas
Shivani is a Company Secretary at Legalwiz.in with an endowment towards content writing. She has proficiency in the stream of Company Law and IPR. In addition to that she holds degree of bachelors of Law and Masters of commerce.