People often confuse Business Name with the Brand Name. For instance, Paytm is a brand name while its actual business name is One97 Communications Limited. Your company name must be unique and not conflict with any existing business name in India. This is why it is important to visit MCA portal and conduct company name search. To help you with the process of choosing your company name, MCA website has the facility to check company name availability.
Remember, starting a company is a step-by-step process. The first step of this process is to register a company name. The company name generates goodwill in today's competitive market. Which in turn will increase the Consumers. So, selecting a company name is a very important step in process of Incorporation.
Hence, we can say that there is a loop starting with the Name and ending with Sales.  
Now the question arises how to choose the company name during the registration of a private limited company.
Key Factors to Consider While Choosing a Company Name
The Laws governing Incorporation of Companies provide certain restrictions on what can and cannot be used as a Company name. So, before checking Company name availibility on MCA portal, you should consider the following things;
Proposed name must not resemble with the name of an existing Company or LLP
Any name that exists already cannot be registered for another Company. Even little modifications such as change in spelling, adding articles (A, THE, etc), changing the tense of name, using the plural or singular form of an existing name, similar sounding (phonetic) name, etc. cannot be considered as a NEW NAME.
For Example, a)  Disc Solutions Ltd. is same as Disk Solutions Ltd.
b) Hena Enterprises is same as THE Hena Enterprises.
c) Ravi Technology Ltd. is same as Ravi technologies Ltd. and Ravi's Technology Ltd.
d) Ascend Solutions Ltd. is same as Ascended Solutions Ltd. and Ascending Solutions Ltd.
e) DK enterprises Ltd. is same as Dee K enterprises Ltd. and D Kay Enterprises.
Central Government considers certain words to be undesirable for a Company
The list below provides certain words that are restricted by the Central Government unless prior permission is granted for the same,
Prohibited words under section 3 of The Emblems and Names (Prevention of Improper Use) Act, 1950.
Use of trademarks registered under the Trademark Act, 1950.
Terms considered offensive by any class of Individual(s)
Use of words 'British India'.
Any word that implies an association of your Company with the Central or State Government.
Any term that denotes your company's association with an Embassy or Foregin Government.
A word that signifies an association with a National Hero or esteemed person. For instance; "Mahatama Gandhi Enterprises" cannot be the name of a company.
Only a Government Company can use the term 'State' in its name.
The name of your company cannot be only the name of a State, City, Country or Continent. Such as, Mizoram Pvt. Ld., or New York Enterprises, etc.
It is prohibited to use the name of an Enemy Country (as listed by the Central Govenment).
Description also Matters!!
The name of your company can not be only the words that describe your business activity. For example; a silk manufacturer cannot name his company as "Silk Manufacturers Pvt. Ltd."
You must also keep in mind, that in order to use words such as "Bank" or "Stock Exchange" you need prior authorisation from regulatory authorites, such as RBI or SEBI respectively. Further, if your business activites include any financial facilities such as Insurance, Investment, Finance, these words must be a part of your Company name.
Using the name of a Dissolved Company
Using the name of a Company already dissolved, is allowed after the passage of a certain time period. For a Comapny, if 2 years have passed after dissolution, and in case of a dissolved LLP if 5 years have passed, you can use it's name for your own company.
Now after considering all the abovementioned factors, you can move ahead to the MCA Portal and check company name availibility.
Process to Check Availability of Name of the Company   
The first step is to open CHECK COMPANY NAME tab on the MCA Website. After which, you will see this page: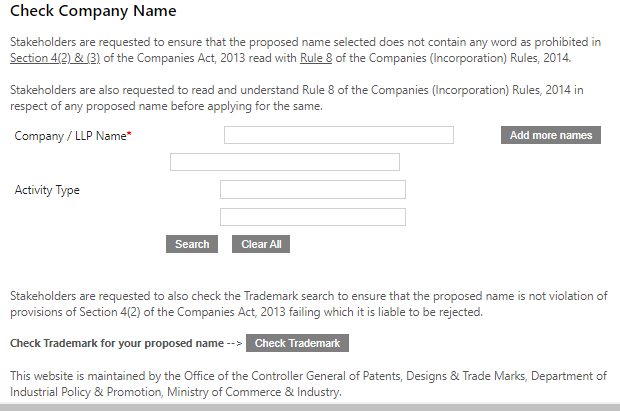 As you can see above, the process for checking name is quite simple. The second step is to enter your proposed company name (can add more than one name). You should not enter the suffix i.e. LLP or Pvt. Ltd. in this column. The next step is to enter your Business Activity. For Example: if you are selling clothes, add clothing in the activity type.
On clicking search, you will see all the results with a similar name while searching for company name availability. If the name is available, it will show an error "Entered Company/LLP name does not exist."
Trademark Search
You also need to check for Registered Trademark for your proposed name as shown in the image above. You will be redirected to the IP India Portal when you click on the CHECK TRADEMARK dialogue box. Once there, open trademark search where you can search for the existing trademark similar to your Company name by entering the Name and Class for goods and sevices. Also remember to conduct a search for "Phonetic" trademarks. As a result of which, you will also get to know about the Trademarks that hve a similar sound to your proposed company name.
Application of Name
You can apply for the name with MCA if the title seems available. If the name is very unique, then you can directly use the name in the form of incorporation of company. Further, separate name application can be filed if the chances of availability of your propsed names are less. In this name application, you can apply for a maximum of two characters. If MCA does not approve any of the two proposed names, the applicant gets one more chance to use any other two names.
Conclusion
As you can see, one of the most important steps in the process of Incorporation of a company is checking the availability of name beforehand. You can easily check the name of company following the abovementioned steps. Though, MCA has the final authority over accepting or refusing the proposed names.
A TIP FROM LegalWiz: If you're unable to come up with a unique word, you can always use a combination of two generic words to create a unique one ;) Online Word Combiners might come to yur aid!
Planning to Start a New Business?
Consult Experts at LegalWiz.in for Registering a Private Company!
*Last updated on 29/09/2021