Companies and Non-Companies, whose books are required to be audited, are required to file the Income Tax Return by 30th September of the Assessment Year. For said entities, due date for Financial Year 2016-17 were earlier extended by one month up to 31st October, 2017.
However, the professionals in addition to taxpayers faced burden of compliance due to system errors and other hindrances. Hence, on the cut-off date, the senior official of the CBDT (Central Board of Direct Taxes) reports further extension of the date by one week. The official informed the extension is granted due to representation by various stakeholders and facilitate ease of compliance for taxpayers.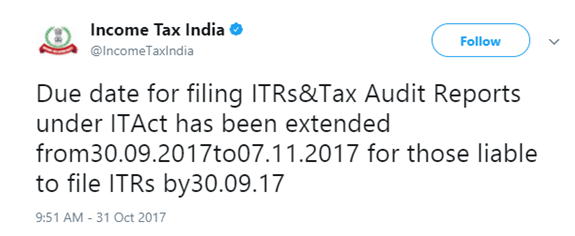 Taxpayers are now required to submit their Income Tax Returns and various reports of audit prescribed under the Income-tax Act, 1961 pertaining to AY 2017-18 up to 7th November, 2017.