What is ESI Registration
Employee's State Insurance (ESI) Scheme runs under an independent authority- Employee State Insurance Corporation which falls under the jurisdiction of the Ministry of Labour & Employment. This scheme is designed to provide the socio-economic protection to employees working in a company. Medical benefits, sickness benefit, maternity benefit and various other benefits to the employees and their family are covered under this scheme. The scheme also extends the financial assistance and medical care to the employees along with their family member insured under ESI Act. The employer and employee need to make contribution to the ESIC and hence, it can be called as self- financing scheme. The employer needs to register under ESI Scheme which can be taken online at www.esic.nic.in (Government portal) once the employer falls under the obligation of taking this registration.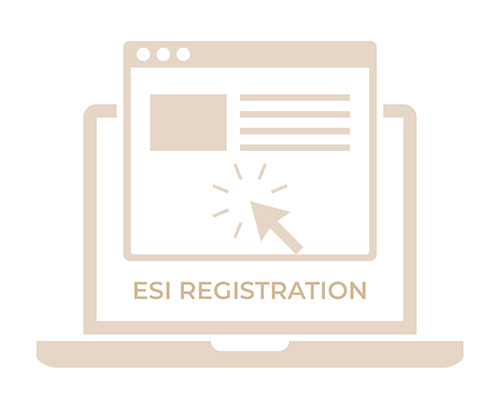 Check whether your entity is covered under ESIC:
(having more than 10 employees)
Non-Seasonal factories employing more than 10 employees

Shops

Hotels

Restaurants

Cinemas including preview theatres

Road-motor transport undertakings

Newspaper establishments

Establishments engaged in Insurance Business
Non-Banking Financial Companies

Port Trust

Airport Authorities

Warehousing establishments

Private Medical Institutions, Educational institutions and

On contract and casual employees of Municipal Corporation/Municipal Bodies employing 10* or more persons in certain States/UTs.
Documents required for ESI Registration
Why Choose LegalWiz.in?
We are a team of qualified Company Secretaries and Chartered Accountants who personally cater to your queries. We also have tie-ups with varied affiliates in various cities of the country to help you get ESI Registration very smoothly. The entire process is managed online with regular communication while providing required assistance at every step. This ensures highest customer satisfaction and on-time service to our clients all over India.
Simpler.
Quicker.
Better.
Experts at LegalWiz.in offer an efficiency-driven simplified Process to get ESI Registration for your entity.
Begin your registration journey by:
Frequently Asked Questions
Explore ESI Registration
More Questions? Seek Help of an Expert