GSTR-9: Annual Return for Regular Taxpayers
Introduction
As per GST regulations, all registered taxpayers need to file an annual return known as GSTR-9. However, filing this return can be a complicated process for many taxpayers. From knowing the different parts of GSTR-9 to understanding the filing process, it can be overwhelming. In this article, we will guide you through everything you need to know about this GST Return Filing, from its format and deadlines to who needs to file and how to do so. So, if you're a regular taxpayer wondering about GSTR-9, keep reading to learn more.
What is GSTR -9
As per GST regulations, all registered taxpayers need to file an annual return known as GSTR-9. It consolidates all the monthly returns filed by a taxpayer in a financial year. The GSTR-9 is a mandatory filing requirement for all regular taxpayers, including those who have nil returns. In terms of the format of GSTR-9, it consists of six parts containing 19 tables. These tables must be filled in based on the taxpayer's previous year's financial statements and must be duly verified and signed by the taxpayer or authorized signatory.
GSTR-9 Filing
The deadline for filing GSTR-9 is December 31st of the following financial year. For example, the deadline for filing GSTR-9 for the financial year 2022-23 is December 31, 2023. Ensure that you correctly enter all the relevant information into the GSTR-9 form and reconcile any discrepancies before filing. Failure to file the annual return on time can lead to penalties and interest.
Mandatory Filing For?
All regular taxpayers, including those with nil returns, must file GSTR-9. However, taxpayers who have opted for the composition scheme, casual taxpayers, non-resident taxpayers, input service distributors, and taxpayers deducting TDS are exempt from filing GSTR-9.
How to File
Firstly, go to the GST Portal and log in with your credentials.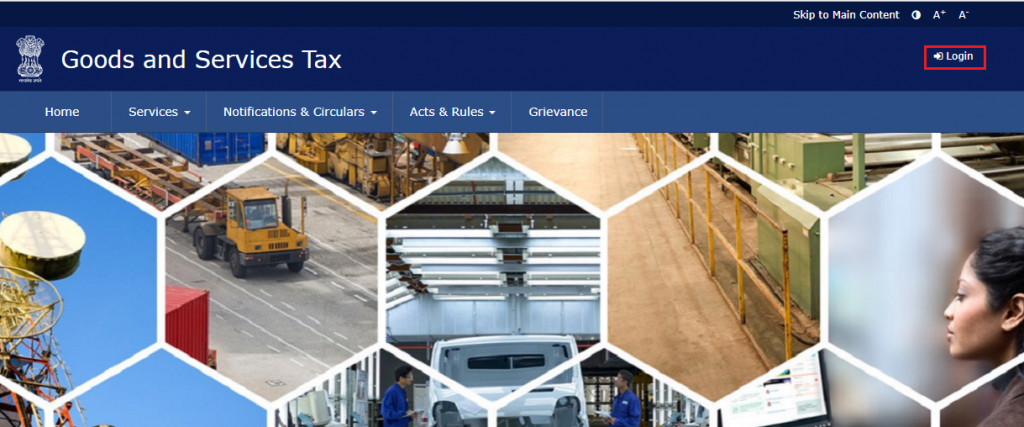 After that, click on Services > Returns > Annual Return or click the Annual Return link on the Dashboard.

Once that's done, select the Financial Year for which you want to file the return and click the SEARCH button.

You will now be on the "File Returns" Page. Read the message boxes carefully and click on "Prepare-Online" button on the GSTR-9 tile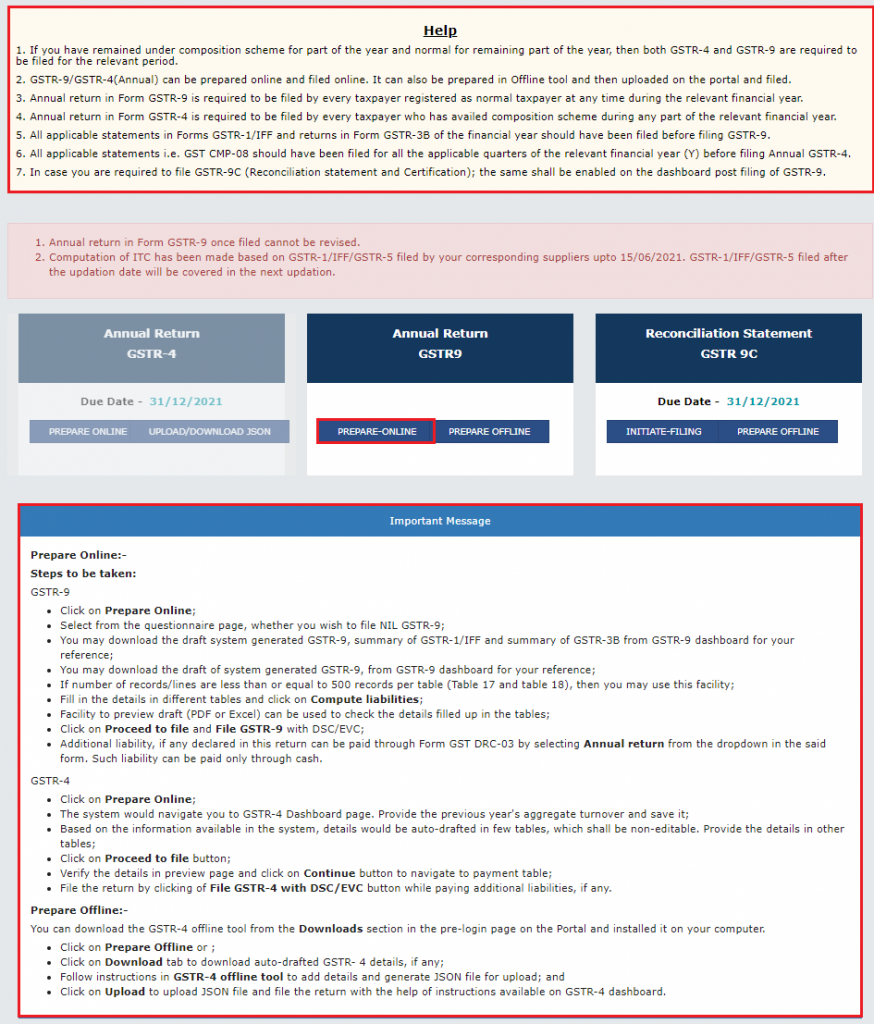 Click on the GSTR-9 tile and select whether you want to file a nil return or not.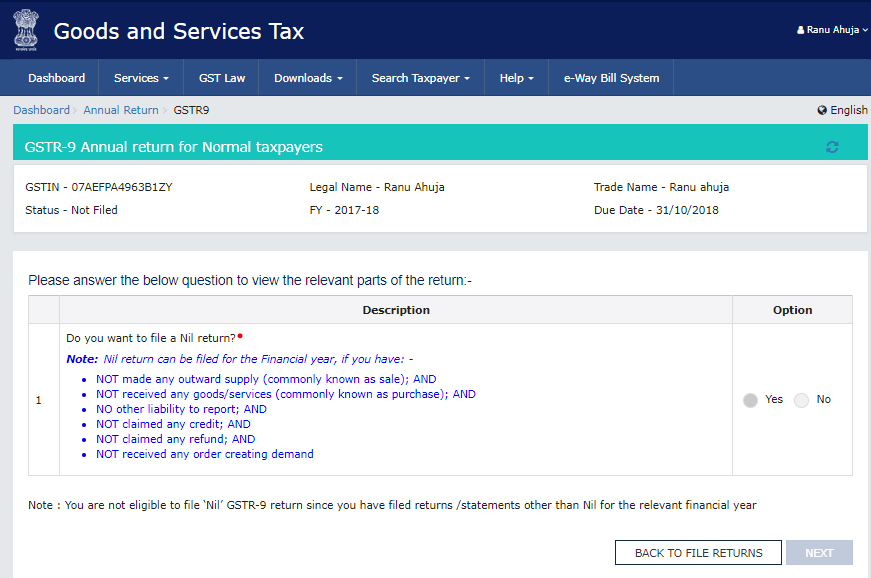 If you want to file a nil return select "Yes" and click "Next".
If you don't want to file a nil return:
Select "No" and click NEXT.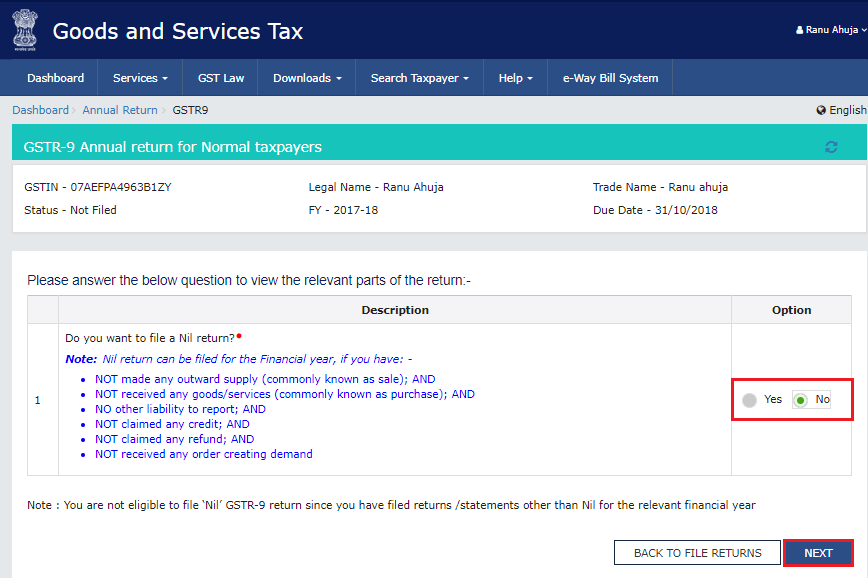 GSTR-9 Annual Return for Normal Taxpayers page will be displayed. Read the box stating the steps to prepare GSTR-9 properly.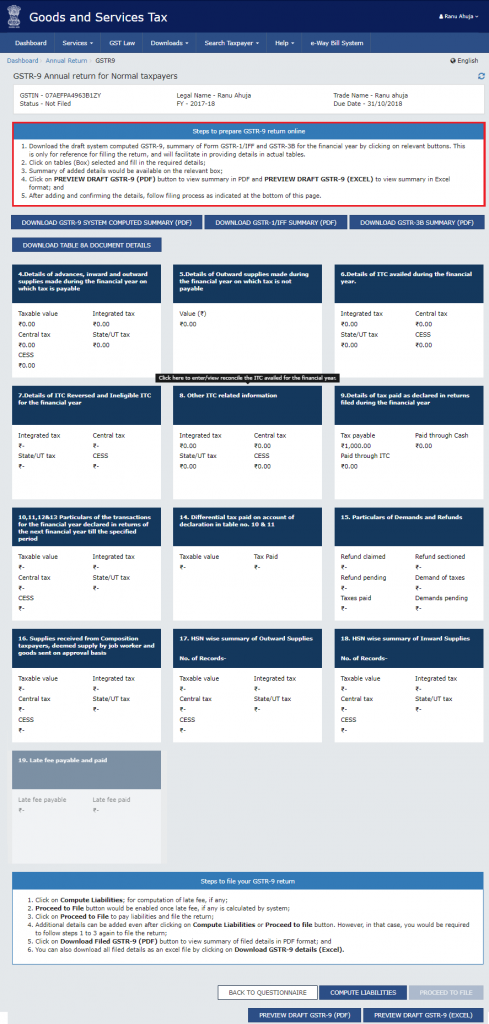 Preview each table in the GSTR-9 Annual Return page. Click on the relevant tables to make necessary edits, click the "Save" button and then the "Back to GSTR-9 Dashboard" button.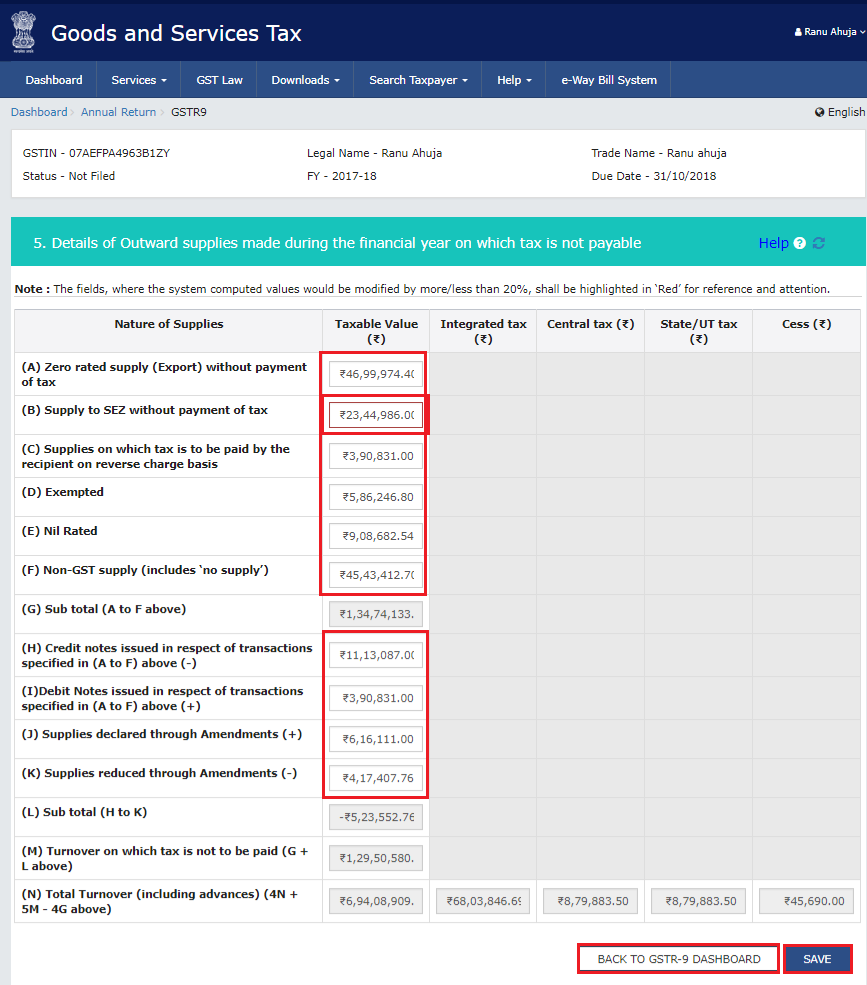 Click OK if and when a confirmation message appears. The GSTR-9 Dashboard tile summary keeps updating as you save details in every tile.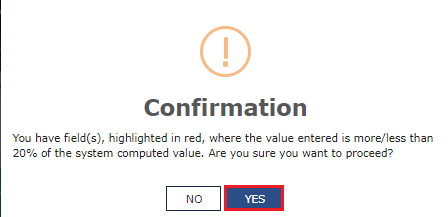 Finally, click on Compute liabilities.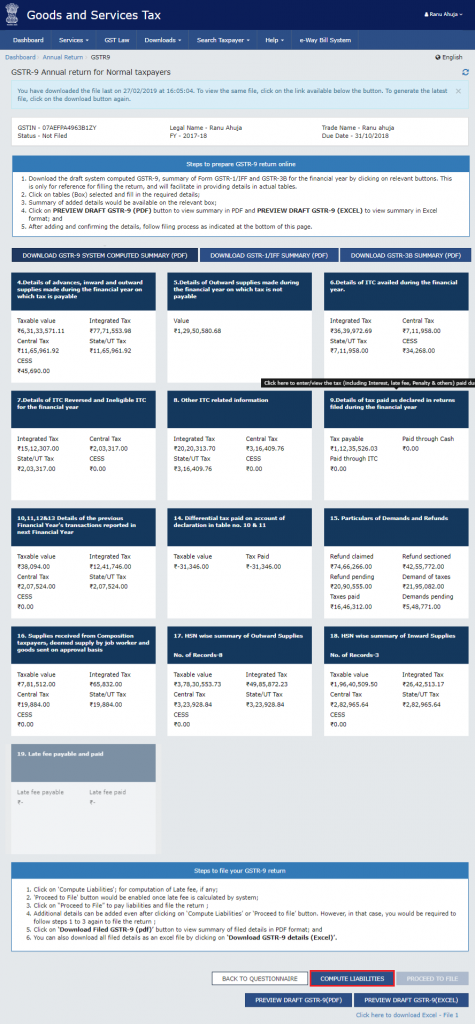 A message will be displayed stating that "Compute Liabilities request has been received. Please check the status after sometime". Refresh the page after sometime.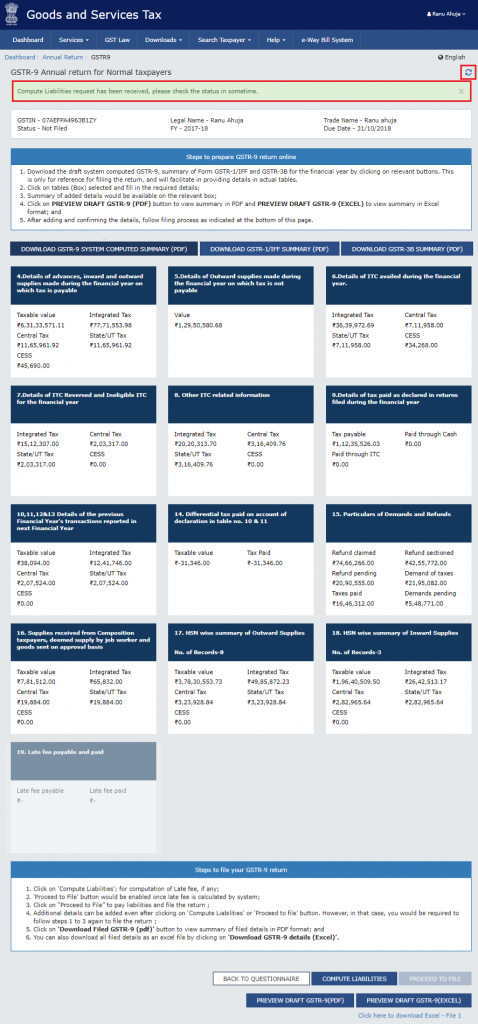 After some time the page will show a box saying "Ready to File.." Click on the Late Fee payable tile at the bottom.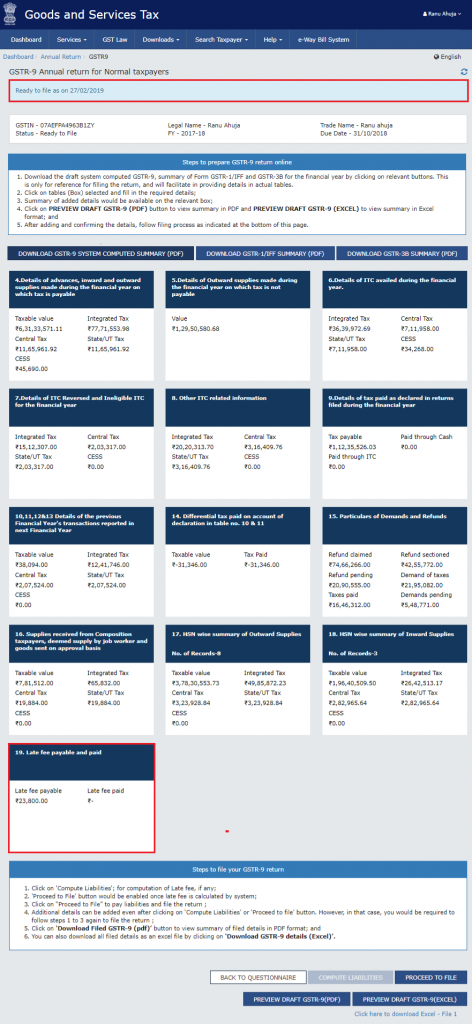 Look at the table, if there is enough cash balance in the ledger click on the "Back to GSTR-9 dashboard" button. Otherwise, click on the "Create Challan button" to create a challan. To learn how to create a challan, read this article: How to generate GST Challan online on GST Portal?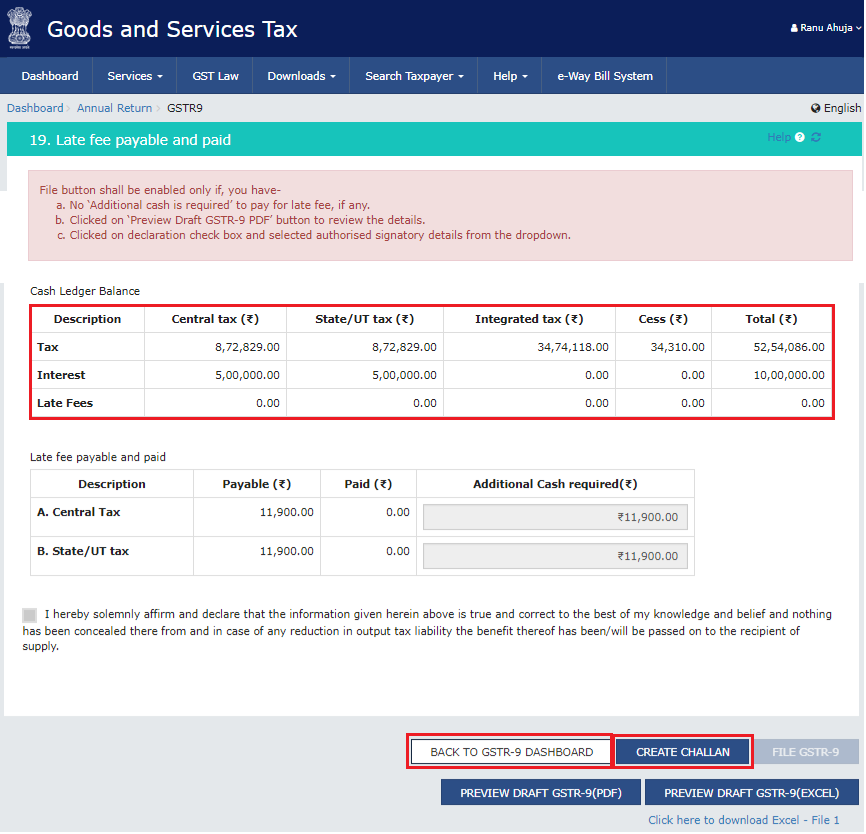 Finally, select the Declaration checkbox and an Authorized Signatory. Then, click FILE GSTR-9 and confirm that you've reviewed the details and selected an authorized signatory. Note: The FILE button only gets enables there is no additional cash required.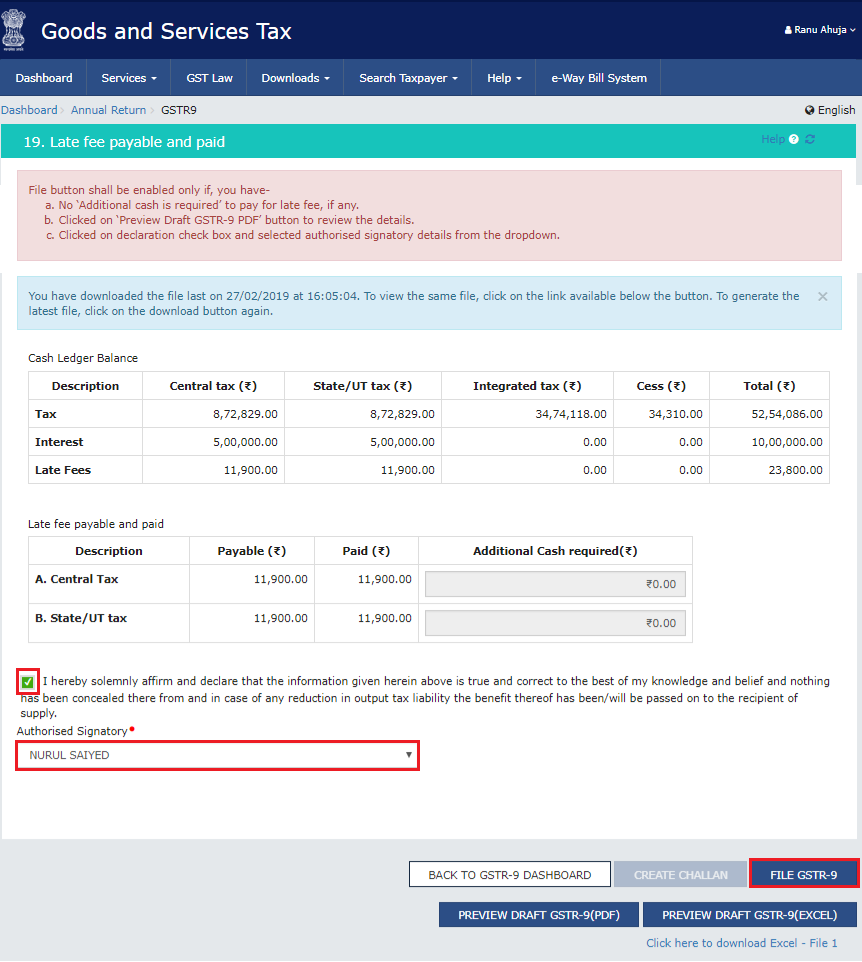 A dialogue box will appear, click "Yes"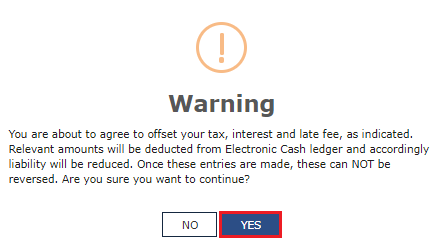 Click FILE WITH DSC or FILE WITH EVC.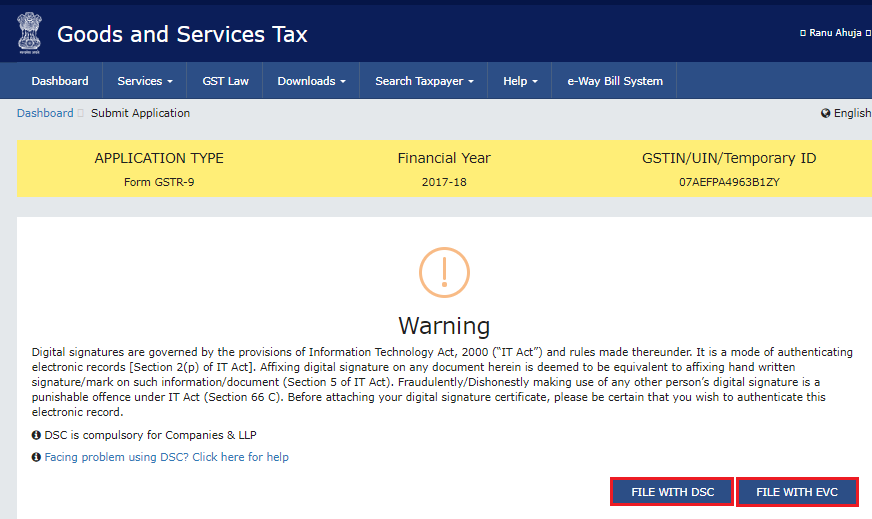 If you choose FILE WITH DSC, select your certificate and click SIGN.
If you choose FILE WITH EVC, enter the OTP sent to your email and mobile number and click VALIDATE OTP.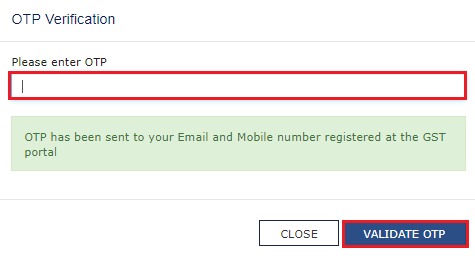 A Success message will be displayed. The system will generate an ARN and send an SMS and email to you. The filed Form GSTR-9 will be available for view/download in PDF and Excel format.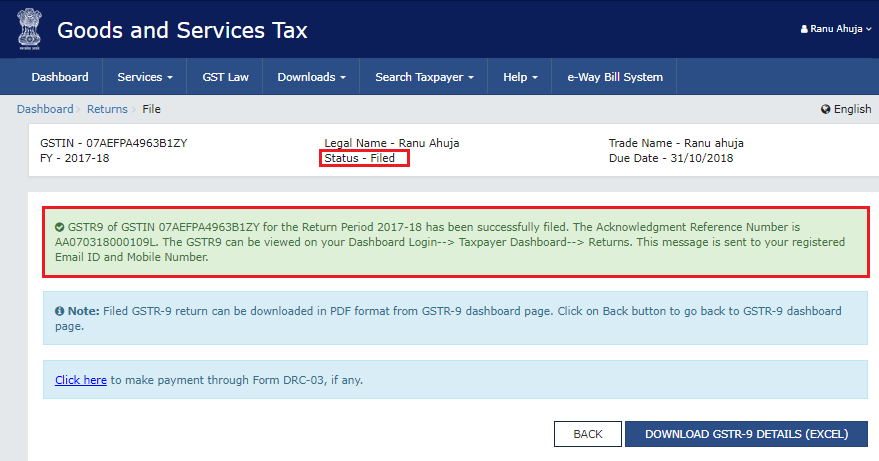 The system will prompt you to navigate to Form DRC-03 to pay any additional liabilities, if you have them.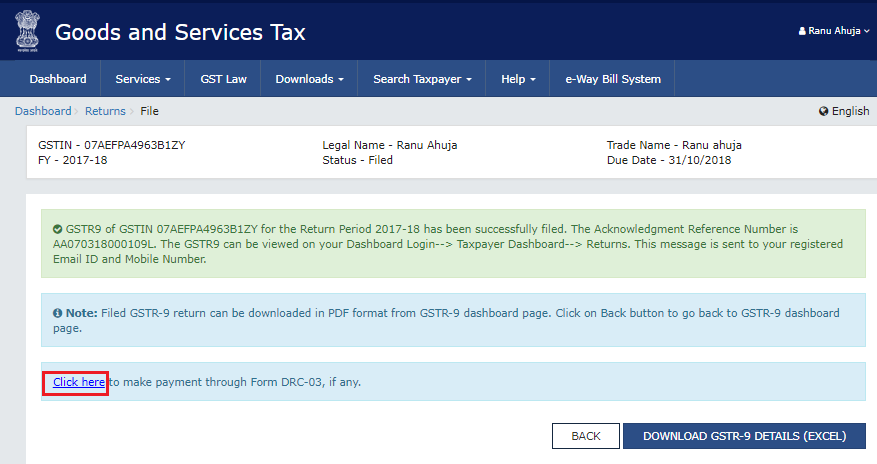 Late Fees and Penalties
If a taxpayer fails to file GSTR 9 within the due date, they may have to pay a late fee of Rs. 200 per day, with a maximum penalty of 0.5% of their turnover in the respective state or union territory. Additionally, if the form contains any errors or discrepancies, the taxpayer may be required to provide additional information and may face penalties and interest charges.
GSTR-9 and 9C
GSTR-9 is an annual return, while GSTR-9C is a reconciliation statement. Taxpayers with an annual turnover of over Rs. 5 crores in a financial year have to file GSTR-9C. It is a reconciliation statement between the audited financial statements and the figures mentioned in the GSTR-9 annual return. The taxpayer files GSTR-9C to ensure that their books of accounts align with the GST returns they have filed.
Conclusion
In conclusion, GSTR-9 annual return filing is a mandatory requirement for all regular taxpayers, and it is essential to ensure that all the information is accurately filled in and reconciled before filing. Failure to file or incorrect filing can lead to penalties and other legal consequences.
Frequently Asked Questions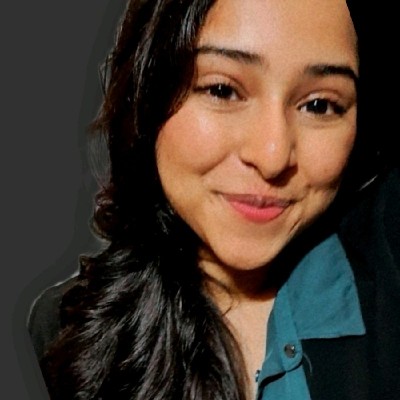 Monjima Ghosh
Monjima is a lawyer and a professional content writer at LegalWiz.in. She has a keen interest in Legal technology & Legal design, and believes that content makes the world go round.